The squid game in Roblox is the latest viral craze. The program, which was a smash sensation on Netflix, nowadays is finding its way to Roblox. Squid game clones abound on the Roblox platform.
For those who are unfamiliar, Squid Game is a program in which people in financial distress play lethal versions of kid's games in order to win a large cash reward.
Why is the squid game popular nowadays?
It's no surprise that this program has become the next big thing on Roblox. Those who have an interest in having fun with a Squid Game will find enough of it in this game. When you search for Squid Game experiences on Roblox, you will find plenty of them.
Choose your preferred choice from a myriad of alternatives on the screen. After that, simply load the game and begin playing the Squid Game.
Read more: How to Refund Roblox Items
Streamers and influencers, on the other hand, mostly share videos of the Fish Game or the auto-registration Squid Game. The show requires participants to wait for an invitation. A host must connect to the server and enable players to join.
It's amazing how soon these Squid Game varieties began to populate Roblox. The program has only been available on Netflix for about two weeks, but it has quickly become the buzz of the internet.
Like Roblox squid game Roblox studio has many interesting games which are the same as thrilling and exciting like squid game click the link and learn more about the best Roblox games.
What is a Roblox squid game?
Roblox Squid Game X is mainly influenced by the Netflix program Squid Game. It frequently puts participants against one another in games that are reminiscent of children's games. Losing equals death in these competitions.
Squid Game X is no exception. Players are awarded coins if they win. These may be exchanged for chests containing unique cosmetic items. Several one-time-use Squid Game X codes that reward players with money have also been published by the developer.
The ambiance of the Squid game
The following game moods are in the show:
All Game Modes: Each squid game has multiple game modes, and these game modes may change from the original series. As developers become more inventive, they create their own game mode that must be completed in order to win the game.
Tug of War
There'll be 2 groups, and you will be given a rope, much as in a regular tug of war game. The rope will be pulled by each team until the opponents fall or are over the line. You will win the round if you can make the opposing team fall.
You only have to Pull it when it appears on the screen in this game mode. The number of team members can occasionally have an effect on performance. However, even if you have fewer teammates, if you successfully repeat the pull, you may easily win this mode.
Squid Roblox game has fantastic animation and visuals, if you're interested in creating animation, we posted a piece on the 10 Best 2D Animation Software in Trend click the link to learn more.
Explore: How to Get Roblox Unban Quickly
Marbles
This game mode is simply a matter of chance. In this game mode, you will have several marbles and you have to select whether they are even or odd, and if your response is accurate, you will be having additional marbles. You win this round if you have more than 0 marbles.
This game has no rhyme or purpose to it. However, we have observed multiple times that if a stranger arrives, it will most likely happen one or two times. The chances of even appearing more regularly are higher, but it all depends on luck and the number of marbles you have.
Glass Bridge
There are two sorts of glassware in this game mode: temper glass and ordinary. Regular glass can hold up to two persons, whereas tempered glass depends on the person's weight. A regular one will easily crack.
You have three options here: Wait patiently for the other player to leap and find the appropriate glass. Second, leap on the glass and then instantly jump back or forth on it. The second step is a bit of a gamble. Finally, try standing on the bar while holding glasses. It's unclear if this applies to all game modes.
Red Light & Green Light
This is one of the simplest game challenges in the squid game Roblox. To achieve this level, all you have to do is concentrate on the song words and how quickly the doll sings the song. She will mention the red light at the completion of the lyrics.
So you can quickly check out the words to "Mugunghwa Koci Pieot Seumnida" she sings. Almost every two times, a red light appears at the ending of Seumnida. When you hear the phrase Seumnida, you can quickly decipher whether you should walk or stay.
Shapes walking
At last, this mode is simply a game of patience. At the start of this game option, many shapes will be offered, and a random shape will be picked, and you must walk over the selected form to achieve the objective.
To stay on the form, simply press the forward key and move your cursor left and right. Execute a little key press, or you will fall and be removed from the game. Smaller movements, but keep an eye on the timer.
Check out: How to Download Roblox
How to install and play the squid game?
Rather than going into depth regarding Squid Game introduction, we'll move right into Roblox installation instructions, skipping any description of Squid Game.
You may play Red Light/Green Light, Tug of War, and other childhood games from the Netflix program on your mobile or desktop computer. So now let's get into the game.
In desktop
Log in to Roblox on your PC using your preferred web browser.
Double-click the downloaded EXE file to install the Roblox Player on your Windows PC.
After installing the program, sign in to your Roblox account. By putting "Squid Game" in the top-level search field, choose Search "Squid Game" in the Experiences option.
For Roblox, simply pick a title from the Squid Games list. Take a mini-game with a huge number of active players and high ratings.
In Androids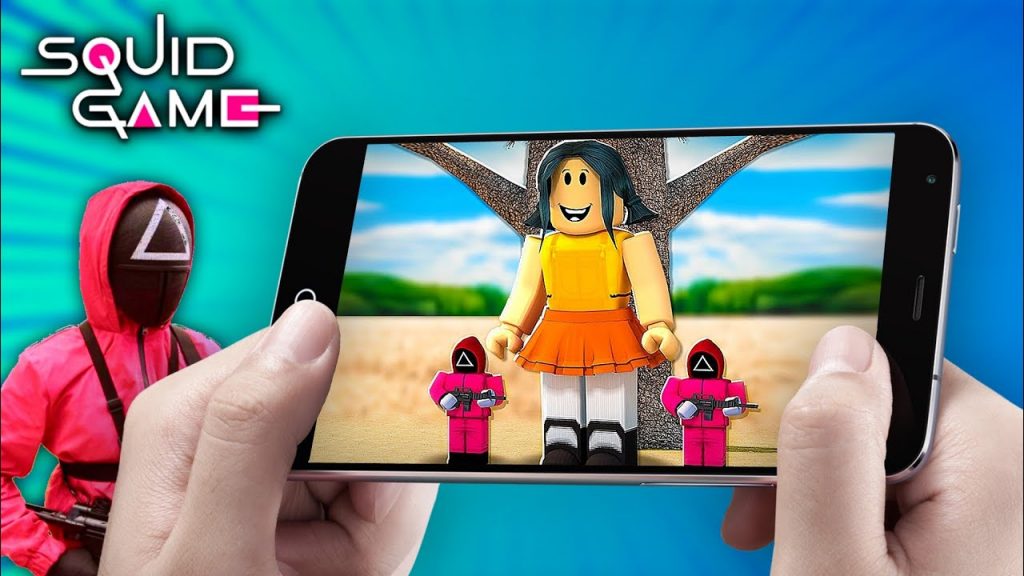 Follow the same procedures to download and play Squid Game on Roblox on iPhone, iPad, and Android phones. Here's how to enjoy the Roblox mini-game on your Androids.
On your smartphone, download the official Roblox app for iOS or Android.
Download the Roblox app and log in.
Use the search icon at the top to look for "Squid Game" (without the quotations).
From the results page, choose one of the Squid Game-themed games to play on your smartphone.
Xbox series X
Follow the instructions below to test out the Squid Game mini-games in Roblox on your Xbox Series X S console.
After turning on the console, press the Y button on your controller.
Locate and install the official Roblox client for Xbox by looking at google.
Use the Roblox app's search tool to locate Squid Game experiences.
From the search results, choose one of the Squid Game mini-games to play on your Xbox system.
Wrap up
So, here's a process instruction to play Squid Game mini-games in Roblox on several platforms, including PC, mobile, and Xbox(console). Excluding the fact that it features children's games and death, we haven't revealed any spoilers for the program in this post.
As a result, if you haven't already seen the show on Netflix, do so before playing the games on Roblox. If you don't want your child to keep using Roblox, you can also easily remove your Roblox account in a few simple steps.
Finally, that's all there is to it simultaneously try out the Squid Game on Roblox and share your thoughts in the comments section. To get in touch with us follow us on social media and to read more blogs read on PublishSquare.