There are lots and lots of apple watch games out there to keep you busy and entertained with all genres. apple watches are more than a mobile, like calling, messaging, tracking your fitness, and more.
An Apple Watch is a piece of hardware that you can wear on your hand that is strong and flexible.
For the majority of users, the Apple Watch is a tool that can now track your activity level, tell the time, and send you email and SMS notifications.
Now the technology has been moved forward and the Apple Watch also has gaming capabilities.
So You can download and play these amazing games on your Apple Watch to keep busy.
Features of Apple Watch:
Wrist notifications and message reading
Measurements and blood oxygen monitoring
Make phone calls and take messages
Let's have a look at the 10 Best Apple Watch games:
#1 BubbleGum Hero – an entertaining apple watch game
BubbleGum Hero is an easy and enjoyable Apple Watch game with a clever idea.
Starting with, To blow a bubble, simply press and hold on to the screen. Release when the bubble has filled the dotted line.
Also, the bubble will collapse if you let go too soon, and it will burst if you hold on for too long. So if you do this your game will end anyway.
Be careful in playing this!
Moreover, your perfect bubbles will then earn you points that can be used to buy more bubble gum.
Pricing:
It's free to download.
Ratings:
4.5/5
#2 Trivia Crack – easy apple watch game
Trivia Crack is a trivia game where you can select from six different types of questions. After that, you can start responding to questions in an attempt to show your competence and win crowns.
Eventually, the game is easy to use and understand because it has excellent visuals, no bugs, and no problems.
Pricing:
It's free to use.
Ratings:
4/5
#3 Lifeline 2 – best apple watch game on an adventure
Lifeline 2 is an Apple Watch word platform game with a 20-minute soundtrack. It's a game where a young woman must go on a dangerous journey to get revenge on her parents and track down her long-lost brother.
In order to help her in moving forward on her journey to finally find her brother, you will need to make choices that will keep her alive.
The instructions will be given in the game according to what you need to follow.
Pricing:
It's a paid game-$2.99.
Ratings:
4.6/5
#4 Pop – best apple watch game for children
Pop is a bubble wrap game that lets you blow bubbles. Though it will motivate you to blow up balloons as quickly and many as you can in a given amount of time so that you may have more fun.
If you're not satisfied with just popping bubbles, try using the competition mode that allows you to win the game that is playing opposite to you.
Pricing:
Free to use.
Ratings:
4.1/5
#5 Rules – best apple watch game on the puzzle
Rules is an entertaining puzzle game that improves brain development. This game was developed by Coding Monkeys.
Observing basic guidelines and Rules is an interesting addition that transforms a clear and simple concept into a complex game with a simple presentation.
Pricing:
It's a paid game for $2.99.
Ratings:
3.5/5
#6 Cosmos Rings – best apple watch game on fantasy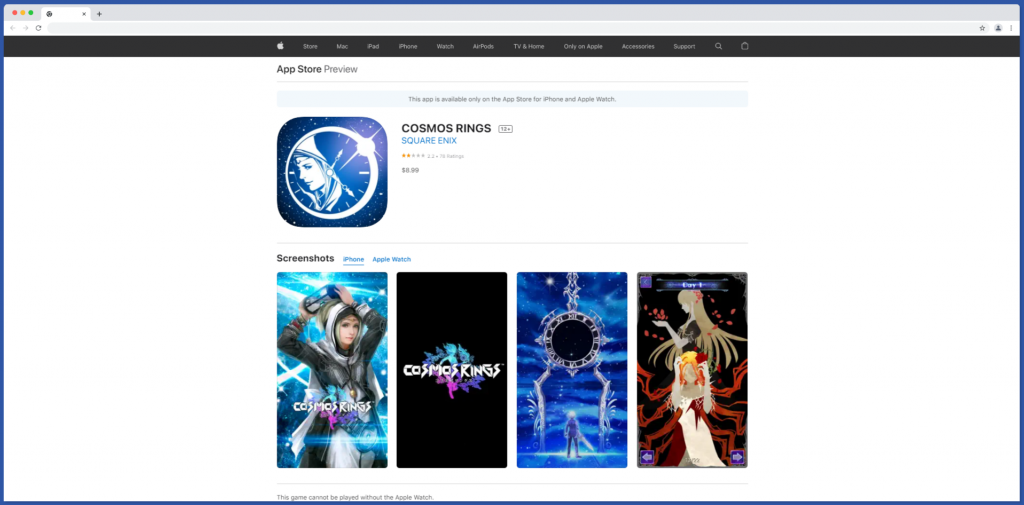 Cosmos Rings is a pixel-art RPG from the 1980s where you can fight, attack, and change time.
In order to defeat the criminal who caused this problem, you will be going through a world where time has been frozen.
To finally turn back time, you must find the Digital Crown.
Pricing:
It's a paid game for $8.99.
Ratings:
5.0/5.0
#7 Pocket Bandit – best apple watch game on interest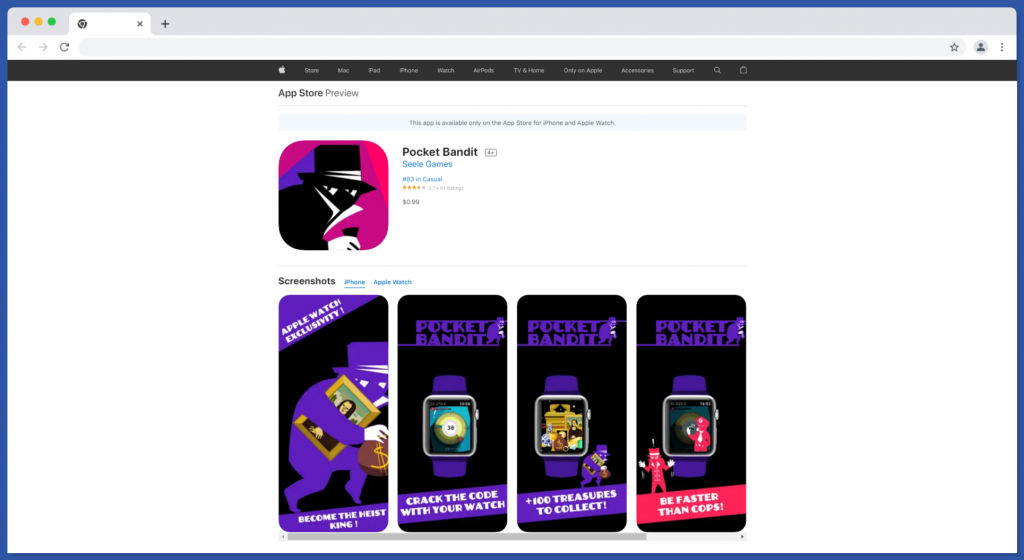 Pocket Bandit is an exciting adventure game that is quite interesting.
In order to succeed as the King of Bandits, there are numerous locks to pick, symbols to understand, and dials to turn.
As you turn dials and attempt to untie these patterns to go on to the next challenge, the watch will even vibrate.
As you play it will be more interesting.
Pricing:
It's a paid game for $0.99.
Ratings:
3.5/5
#8 Chess – best apple watch game on IQ
Chess– As you know chess is almost everyone's favorite game online as well as offline.
Even chess is playable on Apple Watch.
You can play the game for free online.
Although the design is simple, there is a leaderboard so you can keep track of your progress and score.
Pricing:
It's free to use.
Ratings:
4.8/5
#9 Octopuz – best apple watch game on memory
Octopuz is a memory-based game for gamers who enjoy challenging their brains. On the screen of your Apple Watch, a pattern is displayed, and you must copy it.
However, there is a deadline by which you must complete copying the pattern that was shown to you. In short, the game improves motor function and memory as you attempt to quickly complete patterns from memory.
Pricing:
It's free to use.
Ratings:
5.0/5.0
#10 Wordie – best apple watch game on word finder
Wordie is a great game where you must guess what the four photos that are displayed all have in common.
But after a few stages, you'll start to wonder what the images might be trying to hide from you. It's quite an interesting game that keeps you occupied.
Pricing:
It's free to use.
Ratings:
4.8/5
Conclusion:
These are the top 10 Apple Watch games, then. Every game is unique and different. So each game you play makes it more challenging.
Hope you find this blog helpful and if it is so share it with your friends. Follow Publish Square for more blogs like this.
Further Readings: