Instagram is a free social media platform designed for the exchange of images and moving pictures.
Since its launch in 2010, it has grown in popularity by including cutting-edge new features like Stories, shopping, Reels, and others.
You can share a lot of images and videos in a series using Stories.
These are viewable for 24 hours by anyone before they expire. This app is similar to a condensed form of Facebook that focuses on mobile use and visual sharing.
Similar to other social media platforms, you may communicate with other users by following them, allowing others to follow you, commenting, liking, tagging, and sending private messages.
On iOS devices, such as the iPhone and iPad, as well as Android devices, such as smartphones and tablets from Google, Samsung, and other manufacturers, Instagram is accessible without charge.
Benefits of Instagram :
Promote your work Earn income
Post pictures and videos.
Brand your company.
You can succeed with free resources.
Engaging is simple.
Stunning filters
However, shutting up your account is a simple process, regardless of whether you prefer to delete it permanently or just temporarily deactivate it.
This post will explain how to cancel your Instagram account temporarily or permanently.
Is it possible to delete an Instagram account on a smartphone?
First of all, it's necessary to remember that this method cannot be carried out on a smartphone, regardless of whether it runs Android, iOS, or another mobile operating system.
You can only delete your account using a computer's browser, which is the only available platform.
Accessing the official Instagram website and logging in with your account are the first two steps in the process.
Download your Instagram Data
When you deactivate your account, everything on it—including your profile, pictures, videos, comments, likes, and followers—is lost forever.
Follow these steps to download your data.
Firstly, Select "Settings" from your profile by going there (gear icon).
Secondly ,Click "Request Download" under the "Privacy & Security" option.
Thirdly, Enter your password and the email address to which you'd like a link to your Instagram data sent.
You should receive an email from "Your Instagram Data" within 48 hours with a link to your data.
Tap Download Data.
How to delete your Instagram account permanently?
Firstly, Access your account by logging in on the website.
Secondly, Navigate to the website's account deactivation area.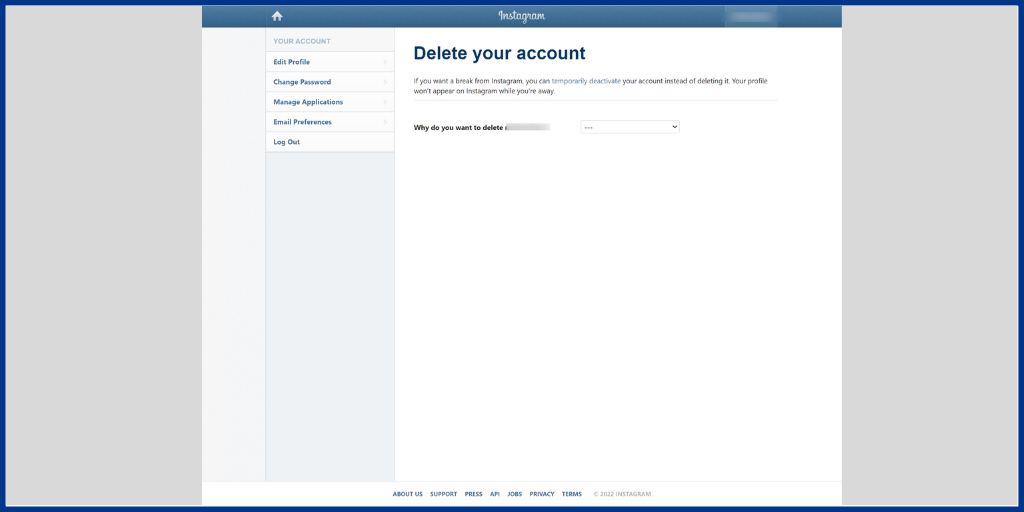 Thirdly, choose the reason for your account cancellation from the drop-down box.
Finally, Enter your password again and then click or press delete.
After you delete your account, Instagram keeps your data for a while, but after 30 days, you can no longer access it.
How to disable an Instagram account temporarily
Use a browser to go to Instagram.com.
To sign in to Instagram, enter your account information.
Click the username, then choose Edit Profile.
Select one by clicking "Temporarily disable my account," and then another.
Retype your password, choose "Temporarily Disable Account," and click "OK" to confirm.
Also, you can Simply log back into the site at any moment in the future will allow you to reactivate your disabled account.
Conclusion:
Therefore, deactivating or deleting your account is as simple as doing. To remove your account, just follow the steps above.
If you like this blog, share it with your friends. Follow PublishSquare to get more updates on blogs like this.
Further Readings: