Linkedin is the biggest business-to-business social network in the world, So if you want to be there and you want to be successful on LinkedIn, you must have a good Linkedin profile. Because your LinkedIn page is the professional landing page for your brand, so it is really important to build it perfectly. There are some important factors to make a Great Linkedin Profile that make your profile stand out from the crowd.
But How to Make a Great Linkedin Profile? The answer to this question is based on 6 important key metrics. These metrics help you to create a good profile on LinkedIn.
Table of Contents:
How Linkedin Profile Helps you
i) To Manage your Professional Brand:
With Linkedin, you can easily manage your professional brand because it allows you to create developed a personalized landing page with your work experience, skills, achievements and more. So you can easily showcase your profile to other people fully on LinkedIn and the important thing is you have total control of your profile and its visibility.
ii) Building new connections and growing your network:
LinkedIn has users worldwide and more importantly, most of them are experts and professionals in their field. So you are having the opportunity to grow your network by creating new connections of experts in your field.
iii) Creating opportunities:
A perfectly updated LinkedIn profile can create you an opportunity to connect with the right people at right time. This will help you to generate high-quality leads or long relationships with customers. As an Individual Linkedin is one the best platform to get the right job for you.
iv) Track your Professional Milestones:
Linkedin is like a digital showcase where you can arrange all your professional records like work experiences, achievements, new skills and display them to other people who are watching and following your profile and it will also be helpful for you to keep an eye on your professional track and motivates you to reach new goals
v) Learning New Skills:
LinkedIn has a special Learning portal where you can now learn new skills and they also offer some free courses which are very helpful when you are a budding professional. LinkedIn Learning has a paid version where you can gain full access to all digital courses on LinkedIn and more importantly, these courses are created by real-time professionals. So it helps you to gain new skills.
Important Metrics for a Good LinkedIn Profile:
1. Profile Picture
Profile Picture is a very important metric for your Linkedin profile because it helps in increasing the credibility of your profile and makes you stand out from the crowd. So it is important to choose a good-looking high-quality profile picture. The profile with a good picture will get 21x more views than a profile without a profile picture and you also have an option to add a background image to your profile which will make your profile personalized
Your profile picture is very important because based on your profile picture people will want to connect to you or offer you business proposals or maybe offer you a job.
If you don't have a profile picture or are outdated, you have to work on that.
What Makes a great profile picture?
Closeup
Look in the camera
Smile
Neutral background
Dress appropriately
Things to avoid
Photo with unpleasant background
Cropped out photo
Photos with pets
Party like look in picture
How do you know that your profile picture is good?
You could ask colleagues or maybe friends but there's another thing that you can do and that's to use Photofeeler.com, Now Photofeeler.com is an application, it's a free one it's online, and what it does is that professionals like you and me.
Photofeeler review your profile based on three criteria:
Likeablility
Influence
Competence
2. Headline
You want to do is to have a look at your headline.
Your headline is the piece of text that comes below your name. And your headline you have to see that as an as the tile of an ad.
It has to you know draw the people into your profile and make them want to read more about you.
Now per default, Linkedin uses your job title there. There's nothing wrong with that but sometimes that can be a little bit boring. Like marketing assistant or sales manager or whatever.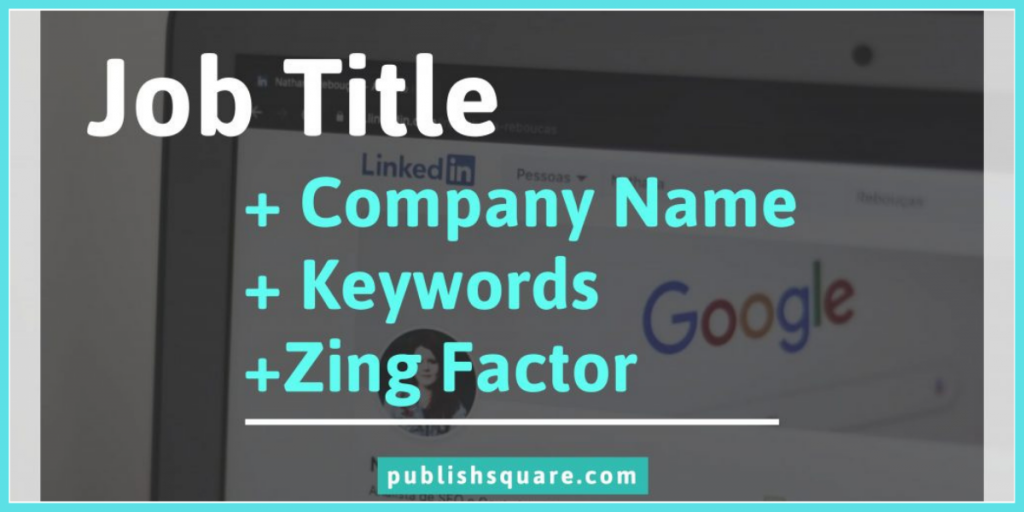 So there's a simple rule that you can use to enhance to make your profile a little better on Linkedin. And that's to use your job function and company name + most important keywords + Zing factor.
Now let me explain that. Of course, you have a job title and then your company name but it is also very important to ad the important keywords. Now, why is that? Because when people go on Linkedin they often try to find certain profiles. They use the search option to find certain profiles.
Now think of the keywords that people would use to find you and incorporate those in your little.
For instance, if you are a marketing manager or a marketing professional and you have experience with SEO or e-mail marketing then it's important to use those words SEO and e-mail marketing in your title.
Zing Factor, That something that surprises people, that could be a conversation starter, that explains a little bit more what you stand for. It's something to get attention to.
3. About Section
Now the third thing you want to do is to write a strong summary. The summary is the piece of text that you can find below your title.
In your summary, you can explain what your skills are, what your strengths are. For instance, if you are a sales manager, then you can explain in your summary how you can help people, how you can help businesses to grow, or what solutions you can offer to them.
Also in your summary, you can add social proof. Now that is very very strong.
You can add links to your website, to a blog, a slide share and you can even add youtube videos there and engage professional people to make connections with you.
4. Education and Work Experience Sections:
This section is the main key metric in LinkedIn profile because it is the section where you can showcase all your education details and your entire work experience with the major roles you have done during your work duration. It will make your profile look more professional. So be careful on creating this section and always proofread your content before making an update.
5. Skills Section:
Skills Section is a place where you can add all the relevant key skills you gained from your previous works and make sure it is highly relevant for you because this helps in increasing your profile views. The people in your connection can endorse this skill of yours, so you can get new opportunities from it. Try to complete an Assessment for the skills you listed on your LinkedIn page because it showcases your proficiency in that skill.
6. Custom Profile URL:
The Custome Profile URL helps your profile to rank in search engines better that helps is increasing your profile visits and more importantly, it puts you in the best light. If you are a professional who cares about your public image and want to stand out from the crowd in the eyes of recruiters or customers, you should customize your LinkedIn URL.
How to Change LinkedIn Profile URL?
Sign in to your linkedin profile
Click on the profile icon that is located on the top right corner of the page
Then you will find the option to edit your public profile & URL
Click that option and you will redirected to another page
There you find an option to edit your Linkedin Profile URL in the top right corner
Customize the URL as per your chioce, but use right words
Then click on save
Your Profile URL will get updated quickly
Conclusion:
In this post, we have seen some important key metrics of creating a good LinkedIn profile. I hope you got a clear answer to this question "How to Make a Great LinkedIn Profile?". Keep these points in mind while you create your LinkedIn profile. LinkedIn itself have some useful courses to guide you to create a great LinkedIn profile. If you find this blog useful share this with your friends and follow our PublishSquare for more blogs like this.
Further Readings:
Is LinkedIn Still The Best Way To Find A Job?
How To Use LinkedIn Polls For Your Business?
Tips For LinkedIn Profile Optimisation to Secure a Job/Internship!