In this blog, we are going to see the Top free canva alternatives for blog, social media, and Ads design which have a lot of free trending templates and stock images
Canva is one of the best designing software for non-professional designers. This software is very flexible with a variety of designs and templates.
But we cannot download the designs which have premium features from canva. So we have to use the same set of free templates and features for our designs. That is why we need some best canva alternatives
Table of Contents:
Top free canva alternatives:
It is easy to use designing software that is used to create stunning designs for your social media and blogs. It has 25 plus formats, so users can create all types of social media posts, ad designs here.
Features of Pixelied:
This software has a ready to use templates so user can easily create a design for their social accounts
It has millions of free stock images without any restrictions, so we can use copyright free images
Easy mockup creation option, so user can create best designs for their products
AI based background removal tool, so tidious background removal process can be done in a single click
Pricing: Free downloads upto 3 designs per month
It is the best canva alternative to create a stunning design for social media posts in just a minute. This software has thousands of templates you can easily access them with a specialized search option.
Features of fotoram.io:
Add any music to a image, text or mp4 file with just a single click
Free access to variety of music tracks, so user can easily add audio to their video
Excellect animation tool that is used to animate the logos and elements in a design
Thousands of icons, elements, badges, labels are available, so user can create unique feature they want
Pricing: 5 free designs downloads per month
It is the best editor with drag and drops features and Itihaas thousand plus professional designs and trending templates.
Features of Easil:
Advanced image editing like Shadow, glow, effects for free so it saves your time and money
It allows users to create animated gifs, so users can create high-quality engagement driving designs
Templates for updated every week so you can create a new variety of designs
Pricing: Free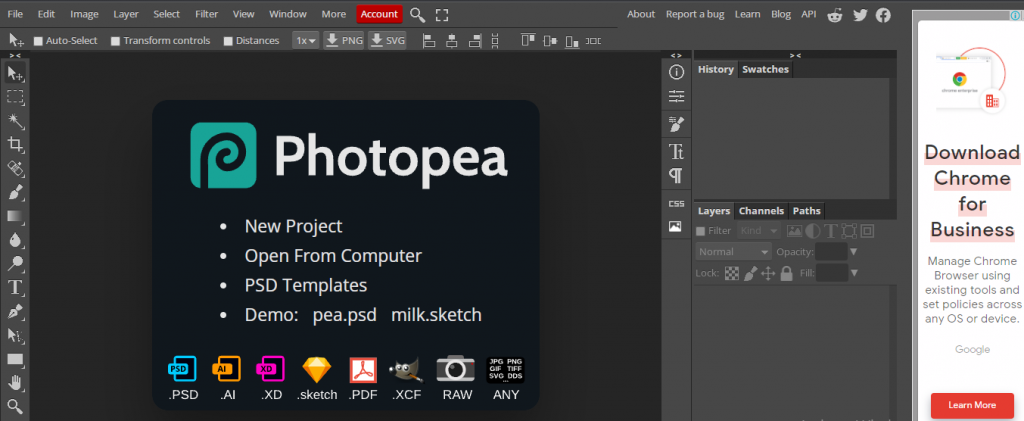 It is a web-based editing tool mostly similar to Photoshop as well as canvas. this software offers a conversion tool so user can convert their designs in whatever formats they want like PNG jpeg, SVG etc
Features of Photopea:
It is highly compatible with all kinds of web browsers so users don't have to use any specific browser to use this software
This software is like an advertisement platform so it does not require any signup
Pricing: Free
It is another best canva alternative that is available is web and app platforms so users can use it on any device to create the designs.
Features of Desygner:
This is a drag and drop software, so users can insert features easily
It is app platform is available for both ios and android
Other than social media designs it also has a pdf editor and logo maker so user can edit different type of files in single platform
Pricing: Free
It is an editing and online photo-sharing platform so pixlr users can create, edit and share the designs online
Features of Pixlr:
Free background removal tool so it is highly beneficial
There are many new templates available so users can create new designs
It is also an excellent photoshop alternative without any installation
Pricing: Free
This software is one of the designing softwares that is best for non professional designers. It is optimizes for better performance, so users don't have to worry about loading.
Features of Snappa:
No learning curve, so user can start using it easily
16 plus designing formats
Easy one click background removal(available in pro version)
They are providing social media scheduling options, so we can easily create and publish our designs online
Pricing: 3 free downloads per month
It is a whole package of designing software that is used to create unique designs, logos, videos and posts for your brand and social accounts
Features of Visme:
They are offering free online courses certification to learn designing from scratch
It has unique templates, icons, data widgets, flowcharts ets, so user can create a format or file they want
Visme conducts free live events frequently to clear the doubts and give useful tips
Pricing: Free account with limited templates
This software is a great alternative to canva and photoshop for non designers. All designing solutions are given under a single dashboard, so user can do their designing work like editing, adding effects, animation very easily
Features of PicMonkey:
Best branding features which includes logos, mockups, badges and labels, so user can easily fic their brand mark in their design
30 plus designing formats, so user can create any type of design they want
It has a cloud based storage, so user can access their design whenever they want
Pricing: Free basic plan with very limited features
It is a best online infographic maker software that is very flexible and easy to use for non designers also. It has 10000 plus free business templates, so user can create a unique business designs
Features of Venngage:
Many variety of presentation and infographics templates
Flexible and easy to use editor that has a inbuilt sharing option
Pricing: Many types of plans are available, basic plan is limited upto 5 designs per month
It is a best slideshow and video making software that is very flexible and easy to use with just three clicks each time when you create a design.
Features of Tyle:
Smart editor that can create contents for the posts automatically
Text to speech tool is available, so just simply type your text and convert it into a high quality audio
Magical resizing tool which facilitates easy resizing of a single design into multiple sizes
Pricing: Free plan that is limited up to 20 slides per video
Conclusion:
Uniquely designed social media posts are one of the very important factors to drive traffic for your website or to increase your sales. Designing software helps you out with the pre-made templates and designs, so the time-consuming traditional old photoshop designs are replaced with this type of template.
We shared a Top 11 free canva alternatives for you in the above post. I hope you will find it helpful because all the software are free of cost and easy to use.
If you want to make changes in your designed layout just try the above software. If you like this blog, share it with your friends and follow our PublishSquare blog to get more posts like this.