Which note-taking application we can call the best note-taking app for iPad, Android, Windows, and Linux,
Which application will provide us privacy, save all kinds of documents and resources such as images, audios, videos, URL links, reminders, locations, keywords with synchronization with other apps, and also teammates or colleagues to share updates on the works.
There are many more applications which save our time at the office work or to recall the stuff, or for future reference.
Now let us look at some of the alternatives for the inbuilt note-taking application in your device which can blow your mind with their unique options.
First let us just see the preview of the apps:
Evernote is the best note-taking app for creating To-do lists with checklists, organizing your tasks, upcoming meetings, presentations, and plans, and creating sub-tasks under each of the main tasks.
Bringing your own creativity by adding your sketching, reminders, and audios.
Also easy to refer to your attachment, taking photos, scanning documents helps you to be more productive without wasting time wandering around for data. It also gives you access to change formatting, highlighting, and Text styles.
Helps you insert tables, attachments, photos, links, code blocks, and dividers. Assist really faster, getting organized and getting productive.
Pricing
Evernote is free for limited accessibility, and also they have two subscriptions;
one is personal for $7.99 per month with great features such as 10GB monthly uploads, providing custom templates, offline access. and more.
The other subscription is professional for $14.99 per month this gives access to all the features from personal also many other features such as using Boolean terms to refine search results, finding content by location with map search, access to all custom widgets, and many more.
Markup texts are also available to change text styles, fonts, and colors for aesthetic or minimal compilation.
Ulysses also has a themeable editing option for your notes with handpicked color palettes. Organization and management at Ulysses provide a full suite of tools for Note-taking as well as novel writing and many more.
Organize your projects subject-wise with sub-groups and sub-sub-groups. Making it easier to access additional information with attachments of images, PDFs, notes, keywords, etc..,
Meanwhile, who else closes your tab just faster like me here Ulysses gives you auto-save and automatic backup so that even if you forget it has your entire text at the library.
Synchronization is now so simple with neither requiring third-party apps nor any kind of glitch and will be set up with iCloud Sync, For macOS and iOS that you can use from iPad, iPhone to mac.
And finally, external folders can be exported on Dropbox to the text library.
Pricing
This app can be downloaded for free and all subscription plans contain a free trial. It fully functions on iPad, iPhone, and Mac App Store It costs $4.99/month and $39.99/year.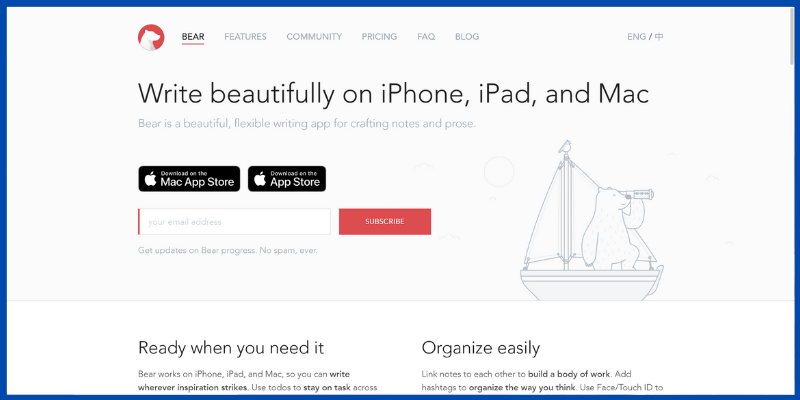 Bear is a flexible writing app for crafting notes and prose exclusively only for iPhone, iPad, and Mac.
Its design really will make words flow in your mind with beautiful themes. Hashtag flexibility to just find with one word you remember.
Multiple export options such as HTML, PDF, DOCX, MD, JPG, and more.
Private synchronization through iCloud.
The best feature is you can simply Encrypt individual notes lock bear with Face/touch ID to protect sensitive information.
Multiple theme choice with more than 150 programming languages puts a highlight on Bear.
Pricing
This application is free to the apple users also with a pro subscription with two options $1.49 monthly with a one-week free trial and $14.99 annually, which has one month of a free trial.
The notion is an app that allows its user to create their own systems for knowledge management, note-taking data management, project management, and many more with one's innovation.
Secondly, this has access individually or in collaboration with others too.
In this 2021 era Notion is the most recommended and enjoyable application by the most productive people as it has the best aesthetic compilation.
It has a quite blank workspace to think about, with easy accessibility, Notion provides a single place to organize everything and to collaborate with 1000 others.
Adding and merging any content, images, and videos you like.
Rearranging your design with just a drag and drop is so easy as it is customized.
Helps in developing your creativity with a clear path to be more productive, editable workspace, and organized, track deals, database projects, publish to the web, with not too many notifications.
Pricing
It is free for personal use, and billing is $5 monthly for personal Pro and $8 for a team with special features as per the pricing.
OneNote is available as a part of the Microsoft Office suite, it is a free, standalone app on the official website, the App Store of Windows 10, Mac, Android, and IOS.
Helps in revising the notes with type, highlighting. Accessible to share and collaborate with other teammates.
Sort content across notebooks, sections, and pages by organizing, Tag is an important feature that helps in having an eye on the notes which can't be missed out.
Also using components such as recording audio, insert online videos, and adding files make it more flexible to save. Microsoft OneNote is far more than just a note-taking app.
Pricing
Microsoft OneNote premium comes with Microsoft 365 with smart assistance features in Word, Excel & PowerPoint and saves up to 500 thousand photos and files with 1TB of OneDrive storage with ad-free Outlook.
2-4 people is a Microsoft 365 Family package – $79.99/year
Individual personal Microsoft 365 package – $59.99/year
As its name is, the simplest way to keep notes where simply available for iOS, Android, Mac, Windows, Linux, and the web.
Adding a tag is the most brilliant innovation where it is easier to find when you have a bulk of notes in one app where you forgets the caption so you just have to scroll throughout your note app, here you can just simply type one of your tags and now your note pops up.
Version history just takes you back to how you typed and you will find the restore option to just get back your notes.
Sync and have a backup and just publish in markdown format.
Pricing
The best part about the simple note is that it's totally free.
Best a simple note-taking app with audio notes, set reminders, sync across all of your devices, and backup immediately.
Saving and drawing on your notes, labeling them, pinning, and adding color to organize them are some of the coolest options in Google keep.
Simultaneously each small thing is kept safe for your remembrance and works with Google suites such as Google Calendar, Google contacts, G-mail, Google classroom, Google Drive, Google maps, and many more.
Pricing
It's absolutely free.
Atom is an app for note-taking with customization options for sheer range and coding.
It has Modeless Operation, Incremental Search, Mouseless interaction, Interlinks, and triggerable from outside Atom.
Currently hacking CSS stylesheet to create just about visual themes. One of the best features in Atom is Syntax Highlighting and Tree View. Packages such as Markdown preview and a Minimap.
Automatic grammar changer and cross-platform editor, these two standard features are perfect and capable when in the right hands. Multi-OS – we can simply use them in macOS, Linux, and Windows.
Collaborative editing means multiple people can access and edit the same files using different operating systems. Open Source uses MIT license, and sync in Dropbox or in Google drive
Pricing
Atom is completely free and open-source
Finally, boards, lists, and cards customisation and expansion with more features as your work grow with trendy looks.
Trello's Intuitive features give any team the ability to quickly set up and customize the workflow for just about anything.
Tasks assignments, productivity metrics, calendars, and timelines with lists and cards are the building blocks of organizing works.
Trello's built-in automation, Butler, reduces the number of tedious tasks on projects boards by the power of automation.
Connects with the apps and with many power-ups available for the workflow.
Pricing
Has four pricing options such as Free, Standard, Premium, Enterprise respective to their price and special features.
Free – $0
Standard – $5/month – scale collaboration
Premium – $10/month – team works
Enterprise – $17.50/month – across teams
Other Alternative
Some Other alternative apps for note-taking you can choose for taking notes are:
Many other alternatives such as Agenda, Notation, Pretext, Squid, Notepin, and Lio.
Conclusion
In this context, we went through available note-taking applications (Free as well paid & for all kinds of software ) also with extra alternative apps for being organized, productive, and to be synchronized, and collaborative. If you have any other apps that we missed in this context specifically for note-taking please mention them below in the comments. If you like this, share this with your friends and follow the PublishSquare blog.