If you use Instagram frequently enough, you will eventually have to reverse search for an image. It's almost a rite of passage. Someone is sure to steal your images on an app that about one billion people use monthly. And you might need to find someone covertly.
These are the two most popular reasons for reverse image searching an Instagram photo, although you may have your own. Every photograph on Instagram is encrypted. That is one of the reasons why the official app does not support reverse image search.
Whatever your motives, the only option is an image search engine, of which there are several. However, not all of them are beneficial.
A little lesson on history. Instagram made its API, a technology that allows third-party apps to interface with the photo-sharing app, private in 2018. Also increased the security of user data, which is a positive thing, but it made some picture search engines less effective.
The image search tools described below have come close to doing a better than adequate job. There is no assurance that you will locate the precise profile you need, but they do an excellent job of refining your search.
Instagram Reverse Image Search Tools
So, why do picture search engines operate if the images are encrypted? Simply put, the encryption prevents search engines from indexing Instagram photographs and videos. They may, however, crawl individual profiles that have the option enabled.
This provides them with sufficient data to evaluate visual patterns, colours, pixels, intricate forms, and geometry in order to locate comparable material on Instagram and other websites.
While these picture search engines are not very good at reverse-finding photographs on Instagram, they excel at the opposite.
They can assist you in swiftly locating other locations where an Instagram image has appeared on the internet. If you suspect a 'Instagram artist' of copying their work, these are useful techniques for uncovering the truth.
You must first save the required photographs to your smartphone in order to get the most out of these tools. Unfortunately, while you may bookmark other people's images, you cannot download them to your smartphone.
You'll need a workaround to accomplish this. Here are a few fast ways to download Instagram photographs to your laptop or mobile device.
4K Stogram is another choice for PC and Android users, particularly if an account contains stolen photographs from you. It enables you to download all of the images from an account at once.
Screenshotting works on mobile as well, although the resolution isn't the same, which may impair the quality of your findings.
Here are the tools now that you understand how reverse image search engines function with Instagram photographs and have your photo.
Google, unsurprisingly, is one of the best. The world's most popular search engine features a reverse image search option that is as effective as any other tool offered by the corporation.
When you enter the image you wish to locate into the search engine, it will display links to all the websites that have submitted the same or similar image.
It may be accessed via a mobile browser or the Lens app for Android, iPhones, and iPads. However, I will be utilizing the desktop version for this post.
The procedure and the outcome are the same, and it may be completed in three phases.
STEP 1: Navigate to the Google Images website.
Ascertain that you have the image you wish to look for. When you've finished, navigate to images.google.com on your smartphone.
Once there, select the camera icon. The following dialogue box will pop up.
STEP 2 – Insert the Image
Choose the Upload an Image tab to find the image you're looking for.
STEP 3 – Locate the pertinent connections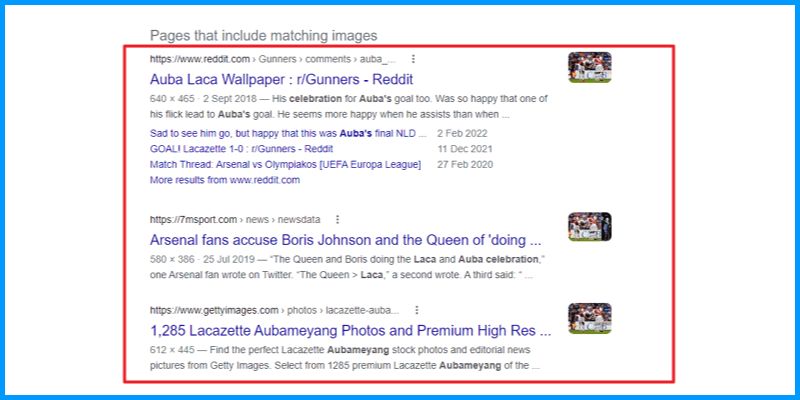 Google will show you every website where the photo appears after evaluating it. It will also broaden the results with a search keyword to assist you in doing so.
Look for links from the instagram.com domain after you've arrived. Remember that there is no assurance that you will get your desired result.
However, if the account is public and popular, the chances of discovering the accurate result increase.
If you're dissatisfied with Google's performance, explore the alternatives listed below.
TinEye is comparable to Google's specialized picture search engine. It has approximately 54 billion photos indexed and crawls millions more every day.
Not only can you locate anybody who has used your photographs on Instagram, but you can also find the image's original location. You may also find a better resolution of a certain image.
TinEye, in contrast to other image search engines, uses image recognition technologies rather than picture-embedded information.
It employs picture features such as pixels, visual patterns, colours, and so on, rather than attributes such as keywords, EXIF information, and metadata, to detect image appearance across the web.
Of course, a proprietary algorithm is also involved. One method is called perceptual hashing, and it is used to generate a hash from a sample picture.
Moving on from computer science, TinEye is simple to use and follows the same processes as reverse image searches on Google.
STEP 1: Navigate to TinEye.com.
Once on the website, click the Upload button with the upward-facing arrow to upload the image.
If you want to search for a picture on Instagram that is on another website, just copy and paste the image URL into the text box and click the search icon.
STEP 2 – Locate the Image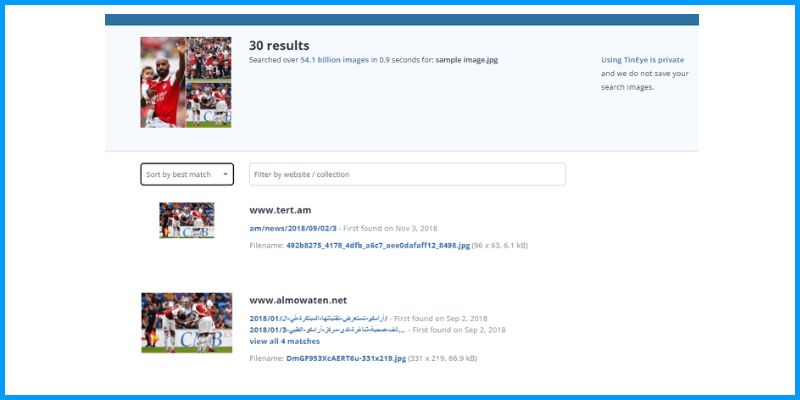 You'll see every other place the Instagram photo has appeared on the web in the results. It's not simply a jumbled collection of links, though.
Sorting options include the best match, largest picture, newest, and oldest. This allows you to quickly locate the most comparable photographs, high-resolution images, and the source image.
You may also specify if you want results from a certain domain.
It's that simple to use.
You may also skip these steps and search for online photos directly without downloading the image.
Install the TinEye browser extension and search by right-clicking on the image you wish to reverse search.
Finally, TinEye searches are safe. The site claims it does not save or index users' queries, which has yet to be proven false.
You have reservations. Don't be that way. One of the few things Bing excels at is reverse image search.
Microsoft's search engine is more visually appealing than Google's Image Search and just as simple to use. Even the way the image results are organised is more user-friendly.
Aside from that, it doesn't harm to try. Given that image search engines are not a surefire method of reverse searching Instagram photographs, each search algorithm produces various results.
And, because the game is reducing your search, going through different results might bring you closer to your goal faster.
STEP 1: Navigate to Bing.com for Reverse Image Search
Another way Bing makes it easier to find. There are no more steps. Simply upload an image from the main menu.
Bing offers several methods for uploading images, making it suitable for a variety of uses. You may do a reverse image search by:
Uploading from your device's memory
Copying and copying a picture or its URL
Taking a live photograph
The final option is useful if you want to reverse search a dress and see how other people on the internet fashioned the look.
STEP 2: Examine the Results of Reverse Image Search
The search engine also categorizes results into three types: text on the photo, web pages containing photos, and all resolution images.
Bing scans the text in the image, which you can then copy or alter in the Photo tab's Text section.
As a tool for reverse searching photographs on Instagram, Yandex adds its own skill sets to the table. It excels at matching similar looks on social media profiles. This is a handy tool if you're looking for someone on Instagram or online.
The Russian search engine is similar to Google in Europe, but with more applications to boot. Even if you've never been outside of Google's comfort zone, you'll find it simple to use.
Yandex offers a few extra elements that make a reverse image search a pleasurable experience other than displaying you comparable photos.
But rather than telling you about it, let me show you how to utilise Yandex Images to reverse search Instagram photographs.
STEP 1: Go to Yandex images for Reverse Image Search
Once again, we begin where all reverse image searches begin: by visiting the image search engine's website.
It's a visually appealing page with photographs that are appealing to the ordinary Instagram user.
When you arrive, click the lens symbol at the far right of the search field. As illustrated above, you will see a dialogue window.
STEP 2 – Insert the Image
You may search for an image by putting it into the clipboard box. Other options for uploading images include dragging them into the box, pasting the picture URL, and importing them from your device's storage.
You know, the typical internet import approach.
STEP 3: Examine the Results
Yandex displays the locations of the image on English and Russian websites. While this considerably broadens the scope of your search, it makes some of the results harder to interpret for non-Russian speakers.
Fortunately, we are in a visual medium, so there isn't much that has to be translated, but you may use Google Translate if necessary.
Aside from that, Yandex provides a number of starting places. Similar photos, photographs in various sizes, and, most crucially, websites where the sought image occurs may all be found.
Yandex scans social media to see whether your Instagram image appears on other sites such as Twitter, Pinterest, and so on. It also offers an endless scroll, which makes it simpler to search for potentially guilty websites.
Even better, you may trim the image and search for a specific section of it. This is handy for shopping or determining the provenance of a certain design inside a picture.
Pixsy is a program that handles most of the work for you, including helping you combat picture theft, as opposed to image search engines that need you to do the matching yourself. It is beneficial to photographers and painters who take their craft seriously.
Pixsy has all the usability features you'd expect from a dedicated picture search service. Search and filter to narrow down matches by category, nation, domain, and so on.
Furthermore, you do not need to upload a picture each time you need to reverse search a photo. Simply submit your portfolio, and Pixsy will do ongoing searches on your behalf.
Finally, if you discover that someone is using your Instagram photographs without authorization, Pixsy may submit a takedown notice or assist you in facilitating a license arrangement.
The business charges a fee for licensing and royalties, but the picture search tools are completely free.
How to utilize it:
STEP 1 – Create an account
To begin, you must create a Pixsy account, which requires only your name, email address, nationality, and password.
STEP 2 – Sync and Upload Your Images
Once your email has been authenticated, you may upload your photographs using your PC and cloud storage services such as G.Drive and Dropbox.
You may use Instagram, Flickr, PhotoDeck, SmugMug, EyeEm, and other picture hosting sites to sync your account.
The service determines how far your images have gone throughout the web by simply linking your account on various networks to Pixsy.
These photographs are not downloaded to Pixsy's servers. As a result, any modifications you make to images on other platforms will have an impact on the quality of Pixsy's results.
STEP 3 – Analyze matches and take appropriate action
You can begin evaluating the first set of matches as soon as they come. There are sites that use your image for commercial purposes, as well as those that use it without due attribution.
You may also take action on broken links with a single click of a button. You may make takedown requests, begin a copyright complaint, and follow takedowns using dedicated tabs.
Assume you've also utilised the other tools to identify websites that are making unlawful use of your photographs. In that situation, Pixsy also allows you to directly submit a claim.
Social Catfish is a specialised tool worth trying for individuals who wish to reverse image search to trace someone from Instagram.
The reverse image search engine offers itself as an online dating investigation service.
Social Catfish searches the web using picture data and face recognition technologies to uncover a person's contact information, social media accounts, and other identifying information.
It is not, however, free. A 5-day trial costs $5.99, however, you can obtain the most recent pricing information following a query.
Meanwhile, here's how to utilise it.
STEP 1: Go to Social Catfish.
When you visit the website, click on the image icon to search for a picture.
When the upload is finished, Social Catfish will start scanning automatically.
STEP 2 – Obtain the whole report
Social Catfish searches many places on the internet for matches, which may take a few seconds.
When it's finished, open the entire report to get all the relevant information on the individual in the photograph.
Everything from their social media and dating sites to emails, criminal records, and location histories will be available. Is it a touch too intrusive? Perhaps, but you have to do what you have to do.
The reverse picture search on Social Catfish isn't just for uncovering the truth about a possible Instagram boo. Photographers and artists may use it to locate websites that are utilising their photographs without their permission.
How are your Instagram photos plagiarised?
To solve an issue, first, you must comprehend it. If other websites and Instagram users are constantly stealing from you, you need to get to the bottom of the problem, which is how people are plagiarising you in the first place.
Cropping and taking a screenshot
The majority of plagiarism occurs as a result of a workaround. Users cannot download photographs from Instagram, but they can snap screenshots.
Image thieves may erase any identifying mark from the phone and make it look original by utilising screenshots and crop tools. This permits them to reuse it elsewhere without giving you credit.
Third-party indexes or search engines
If your photographs are available for crawling by search engines or third-party indexing, they are no longer private. While this does not necessarily imply that they are free for anybody to use, most internet users believe online photos to be public and so fair game.
These are the most common ways your Instagram images are pirated. Instead of manually scanning through every image, you may take the following steps to avoid this from happening again.
How Should You Avoid Image Plagiarism/ Reverse Image Search?
Unfortunately, no solution is flawless, and there are always sacrifices. While these methods will lessen or eliminate the frequency with which your photographs are pirated, they may result in less exposure for your photos.
Photos with watermarks
Watermarking is an excellent approach to prevent others from stealing your photographs. A well-placed watermark will not only restrict the amount of plagiarism but will also ensure that others can locate the inventor, even if the publication does not acknowledge you.
It will also make copyright claims easier, especially if you utilise tools like Pixsy to file takedowns.
Consider going private to Reverse Image Search
By making your material private, only the followers you authorise will be able to see it. This may also make it easy to hunt down anyone who is sharing your images without your permission.
The obvious disadvantage is that it restricts the exposure of your photographs. Even with hashtags, only approved Instagram followers can find you.
Restrict access to untrustworthy applications for Reverse Image Search
The issue might be a suspicious third-party programme that you previously granted access to your profile. Visit this page to get a list of applications that have access to your Instagram API. By pressing the Remove button, you can revoke access.
How Should I Report Image Theft?
The methods for avoiding plagiarism are not suitable for everyone. Photographers and other creatives on the rise cannot afford to go private. However, by reporting picture theft to Instagram, you may dissuade others from stealing your work.
To do so, you must complete the Copyright Report Form. You must submit information such as your contact information, the sort of content you intend to report, and the link(s) to the content.
Provide as much information as is required to successfully file a report. If Instagram determines that the user is truly copying your work, the post will be removed and the user may be warned. Instagram may even ban their account in extreme situations.
Finishing Touches of Reverse Image Search
To summarise, there is no surefire method for performing reverse image searches on Instagram. There is no such option in the official app or the online version. However, employing picture search engine tools might be beneficial.
Finding relevant results with a single search engine is doable, but I advocate combining them to cast a wider net.
However, for long-term benefits, consider employing any of the above-mentioned alternatives to secure your work.
Further reading