Audio equalizer is a software that let you to modify the outcome of different sound frequencies. It is a sound engineering tool that helps increase or decrease the frequency level of certain areas for better volume control. Furthermore, you can use an equalizer to boost the bass that is responsive to low-frequency sounds.
Audio equalization is a system of adjusting the balance betweenfrequency components. Also, there are many PC equalizer applications that can help you perform equalizer tasks in just a few seconds. Meanwhile, with this application you can access audio functions like Equalizer, Surround, Surround, Base Management etc.
What are the features to consider to select the best Audio equalizer tool:
Firstly, it restores lost quality with the floating-point processing.
Secondly, it must support both Mac and Windows platforms.
Customizable sliders for fidelity – to reduce muffled sound in compressed audio,
Ambience – to add extra stereo depth, surround sound,
Boost dynamics – to increase the volume by increasing the dynamic range and
Furthermore, better Bass boost.
Let us look at the Best Audio equalizer tools:
FxSound software helps you improve your sound for music, movies, podcasts, interviews, and more. Meanwhile, this application will work as two tools in one: The equalizer and the real-time audio editing function.
Let's take a look at the equalizer first, it comes with 10 bands from 110 Hz to 15 kHz, there are also:
Customizable sliders for fidelity – to reduce muffled sound in compressed audio,
Ambience – to add extra stereo depth, surround sound,
Boost dynamics – to increase the volume by increasing the dynamic range and
Finally, better Bass boost.
The processor automatically adjusts the fidelity, environment, and surround sound of the audio, then redirects it to 16-bit, allowing the application to significantly improve the theoretical 16-bit limits of the web.
Features:
Helps you restore lost quality with 32-bit floating-point processing.
Secondly, achieve it in minutes a loud audio quality, and helps you amplify audio signals.
Also, this Windows 10 audio equalizer allows you to increase the volume of your computer.
The preset profiles include Rap, Alternative Rock, Dialog Boost, Country, Techno, and many more.
Realtime processing is great when you listen to audio on the web.
Internet audio is only 16-bit, but also, it uses a 32-bit processor.
Pricing:
They offers a free version.
The premium would cost $ 1.25 / month.
Bongiovi uses Digital Power Station to control the sound of your music, games, applications, and videos. Moreover, Bongiovi DPS is software technology that changes your listening experience.
It works in real-time to correct and optimize the sound and is available for both Windows and Mac
Features:
More control with updated bass and treble equalizer.
Also, it offers a new user interface.
Furthermore, it has frequency display.
Finally, it's one of the best free equalizers for Windows 11 that allows controls for stereo enhancement.
Pricing:
Subscription is $ 4.99 / month
With a free trial.
Boom 3-d device permits you to calibrate your audio with simply the slide of your finger. Meanwhile, it is an equalizer device for Mac & Windows.
Additionally, The equalizer has 31 bands and dozens of presets, each of which integrates to offer an immersive listening enjoy, no matter the style of audio you're playing, and gives a preset characteristic to shape the distinctive genres of music.
The software program is normally designed for folks that pay attention to their laptop audio via headphones.
Features:
This sound equalizer Windows 10 gives complete manage to fine-music your preferred music.
Also, it helps you to boom the extent past its everyday limits safely Audio throughout diverse devices App extent controller
This PC equalizer Windows 10 gives you an interesting sport enjoy with nasty outcomes as a result of ambient noises being filtered out.
It can convert all of your audio output into 3-d surround sound with no extra hardware or boosters.
It additionally boasts one of the maximum superior equalizers out of all of the apps on our list.
Pricing: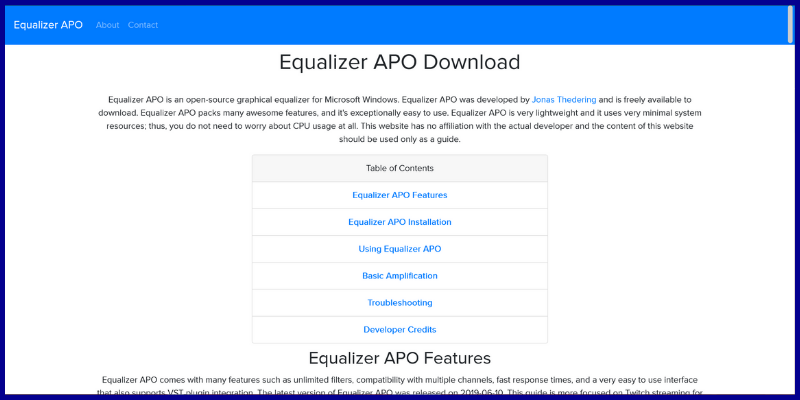 Equalizer APO improves the audio with a parametric and graphic equalizer. Meanwhile, Noteworthy is the fact that Equalizer APO is open source.
The development team is constantly striving to provide users with new features and updates. Moreover, the Equalizer APO user interface may not be modern, but definitely it is very useful.
Features:
Graphical user interface that can be customized in a number of ways.
It more importantly allows you to improve the bass.
Moreover, there is almost no latency.
Adaptable to a variety of input channels.
Pricing:
Equalizer APO can be downloaded for free.
EqualizerPro enhances bass tones and helps improve overall audio output and offers the sound quality of your favorite audio applications.
This site also allows you to access and improve the overall audio output without having to adjust each band separately.
Features:
This Windows equalizer lets you create custom presets that you can use with your programs.
Secondly, it enhances bass settings without masking them.
Furthermore, it is easy to activate and deactivate the program.
You can improve the overall audio output without adjusting each band separately.
Pricing:
Has 7 days of free trial.
Costs $29.95.
The Voice AutoEQ is a plug-in that you can use to improve the quality of your voice. Also, You can use this tool to speed up your audio processing workflow. Helps you eliminate noise from voice.
Supported platforms are Windows, Mac.
Features:
Firstly, this allows you to record audio smoothly.
Secondly, you can automatically reduce the breathing noise in the audio track.
This tool can be used without audio knowledge.
Also, it allows you to keep the output level constant.
Pricing:
Standard plan costs $7.99 /month.
Pro package costs $15.99 /month.
Adobe Audition is an application that allows you to quickly change your voice.
It helps you change the pitch of a sound seamlessly. Furthermore, this voice changer app allows you to refine your voice with minimal effort.
Features:
Provides multitrack user interface.
You can add echo effects to your voice.
You can add preset sounds to your voice.
Finally, it helps you adjust your settings.
Pricing:
Primum costs $31.49 per month.
And, they provide free trail.
Conclusion:
My choice and recommendation will be FXsound and Bongiovi to have the best full use of the website, affordable and to use its features to its whole.
Take time to select the best one, I hope my blog helps you to have an idea quickly looking at each of the Best Audio equalizer tool's features. I found these Best Audio equalizer tools out of my own curiosity and hope you will also find them useful in your Music playing or editing or in your DJ experience and find my ratings right according to their features and limitations. Share this blog with your Music craze friends and follow our PublishSquare for more blogs like this.
Further reading: