7 Best Free Drawing Apps for Android. I've included the best features and limitations to help you get a sense of why each product is so good.
Using an iPad to draw digital drawings is always a way to develop your skills in digital drawing. But at the same time, you have to check a few of the drawing apps exclusively for android devices.
Here are a bunch of free drawing apps for Android. However, each drawing apps have some strengths and limitations.
As all the apps I have mentioned below are free at the google play store for Android users you can easily download and use them export them as you desire.
Art flow is my choice but it might work for you, but some of my other top picks could work better, depending on what you are trying to do.
Art flow is the best drawing app for android that simply reminds me of procreate on the iPad which is one of the best drawing apps. It doesn't have every feature of procreating but it has all the stuff that I want to do and it tends to stay out of my and not get too complicated.
You can download this app for free but if you want to use it I would not consider this a free app you're gonna want all the tools you're gonna want to unlock it.
There's the ability to modify your brushes play with them and do all that fun stuff and make it your own my only complaint with art flow is that I wish it used better hand gestures.
The only limitation is that it should have used better hand gestures.
Features
Layer Filters
You can have up to 10 layers of filter including saturation, brightness, and color curves. Also, a clipping mask of the layer is available.
Canvas size
The maximum size of your can be up to 6144×6144 with 50 layers.
Custom Brushes
You can simply create your own custom brush by just importing images. You will be provided with 100+ brushes and tools.
Document support for import and export.
Artists can diversely import and export the file in PNG, JPG, and PSD.
Infinite Painter which you can download for free but I would not personally consider this a free app because you're gonna want to have all the better tools that come with the in-app purchases.
Also, this one used to be number one on my list it's really good, and over the last couple of years.
I've seen more and more people talking about the Infinite Painter and really giving it. You can go out there and get new brushes or you can modify these to make them more personal make them their own so there is a lot of potentials.
Features
Better Tools
You can enjoy four types of symmetry and experiment with them. Draw your 3D cityscapes with five various perspective guides. Also, use blend modes in Layers and Photoshop.
Transform tool: Translate, Scale, Rotate, Flip, Distort, and Skew.
Liquify tool: Move, Bloat, Pinch, Swirl, or Ripple.
Better interface
It is easy, simple, and organized.
Paint – Sketch, Paint, and Blend.
Clone – Turn a photo into a painting.
Edit – Adjust color, Liquify, Pattern, Crop, or add a filter.
Better pattern
Create seamless patterns with the Pattern tool. Also, has Gradient and Pattern Fill.
Better Canvas
Transform multiple layers simultaneously. And add your Reference images.
Easily Rotate and flip the canvas as you desire.
Medi bang is a free drawing app for android and There are no strings attached it's just free I was torn between putting sketchbook or Betty bang here both have tools you need to make great art.
These are probably the app most folks are gonna move towards on Android because they are affordable and there aren't a lot of ads weighing them down.
In fact, this feels a lot like a desktop app I'm a fan of having a lot of drawing space and so.
Medibank does have a little too much interface in the way for me but if you're coming from this kind of desktop interface you're probably gonna feel right at home.
Features
Easy to use
The user interface is specially designed for smartphones so that users can easily paint, change brush sizes or colors.
Color can be changed with no effort in HSV mode.
Best Painting Tools
Use over 100 free brushes to draw a variety of colored glasses.
A large selection of airbrush, pencil, watercolor, G pen, mapping pen, Sumi, flat brush, round brush, acrylic, school pen, turnip pen, drawing pen, and soft pastel to multi-brushes such as the salad brush.
Force Fade In and Fade Out makes your lines sharp, even if you draw with your fingers.
Access Countless Resources for Free.
Users get free access to 850 tones, textures, backgrounds, and word balloons also, there are pre-built backgrounds with city scenes and vehicles to reduce user workload.
Tones, textures, and backgrounds can be dragged and dropped onto an image. Moreover, they can also be rotated, scaled, or transformed freely.
Free comic fonts to give your comics a professional look. Simultaneously, depending on the fonts used, the atmosphere of your comic can change dramatically.
If you are into manga It is very important to have the right fonts for the right scenes and characters.
Edit your work easily
Layers allow you to draw different things on different layers.
Draw a character's hairstyle on one layer and you can change it without redrawing the entire head.
Use a photo to create a drawing.
You can take photos and place them on a separate layer. meanwhile, then create a new layer on top to keep track of. This is especially useful for drawing backgrounds.
Flexibility
The uploaded files can be shared with other people so you can collaborate. This function allows you to work with multiple people on a project.
With one click you can share your work. Also, with one click you can upload your work to the MediBang art community. Simultaneously, The work you have uploaded can also be shared on your social media accounts.
Autodesk SketchBook which is now a free drawing app for android in just log in and share your data with us free this might be the most robust app out here on.
Android and it's really good if you use this on the desktop it's gonna be a pretty smooth transition for you not everything is here but the most important stuff is sketchbook has a lot of tools that are designed to replicate traditional media.
It does a pretty solid job of it they're also some cool features like a perspective grid a good text tool some pretty robust layer options.
I actually really like sketchbook on tablet and I think I like it better on a tablet than I do on a desktop.
Features
Customizable brush
The Autodesk sketchbook provides you an option to customize your brushes that are highly customizable so you can get exactly the look you want. This is a feature requested by many in their drawing app to use to their whole extent.
Best user interface
Designed specifically for drawing, the user interface is clean and unobtrusive so you can focus on drawing. Meanwhile, they also, Support guides, stroke tools, and rulers Precision When You Need It.
Better brushes.
A full range of brush types – pencils, markers, airbrushes, smears, and more that look and feel like their physical counterparts. This makes Autodesk sketchbook the best drawing application on a free basis.
Flexible Layers
Layers with a full range of blending modes give you the flexibility to create and explore drawings and colors.
IBIS paint is free as long as you watch these ads it's free. Meanwhile, ibis Paint X is a free drawing app for android that how clean those brush lines are it's great for inking comic art and the stuff.
I like to create the brush stabilizer they have built-in here is just really good I like the way it feels it's hard to describe I just know it when I feel it.
One thing is that I couldn't figure out how to pull in the line art that I had saved to my tablet there are ways to import materials I was just too dumb to figure out how to do it on my tablet locally.
ibis Paint X does have in-app purchases but they won't have the experience, for example, you can pay to get all the brushes or you can watch an ad and that's gonna unlock your brush for several hours.
I think what makes this kind of practice is okay at least in my book is it gives you the option to watch the ad.
Those ads aren't forced onto you although there are the ads running along the bottom of the screen that does take up some space, unfortunately.
Features
Brush Quality
Smooth drawing at up to 120 fps. Now more than 2000 types of brushes, including dip pens, highlighters, digital pens, air brushes, fan brushes, flat brushes, pencils, oil brushes, charcoal brushes, colored pencils, and stamps.
Various brush parameters such as start/end thickness, start-end opacity, and start-end brush angle. Also, quick sliders let you quickly adjust the thickness and opacity of the brush. Real-time brush previews.
Layer details
There is no limit to the number of layers you can add. level parameters that can be set individually for each level.
A handy crop function for cropping pictures, etc. Meanwhile, various layer commands such as layer duplication, photo library import, horizontal mirroring, vertical mirroring, layer rotation, layer shifting, and zooming in / out. Also, function for specifying layer names to distinguish between different layers.
Manga Functions
Text tool function featuring Horizontal, Vertical, Font select, Stroke, and Multiple text functions.
Moreover, 46 screen tone functions such as Dot, Noise, Horizontal, Vertical, Slash, Cross, Square, etc.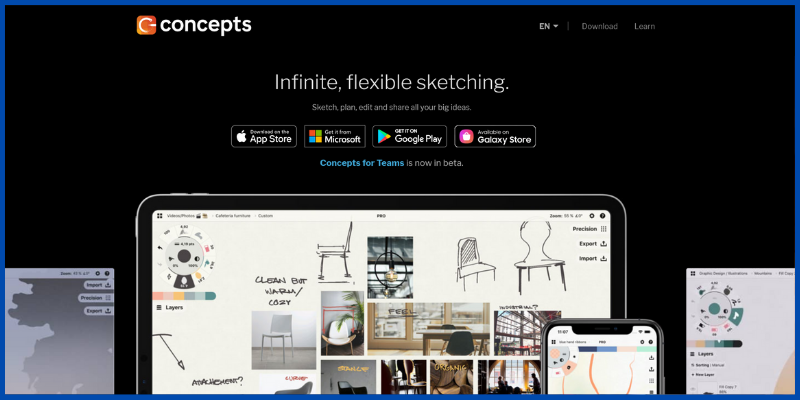 This app is free is it not really there's a demo mode but it's free if you want the good stuff you gotta pay for it and I'm sorry but unfortunately, this is also subscription-based.
I haven't used this app since the original was available for the iPad it's got a really cool animated color picker wheel I think that's one of the defining elements of this app and as cool as it looked.
After a while, I didn't really enjoy using it all that much I mean it's fine but I prefer a smaller more traditional color picker the free model of this app was surprisingly robust.
If you want to get all the brushes and really fiddle around you do have to pay but you can get a fair amount done before you hit that wall.
Many love this app because it's really well-designed the thing that held it back for me was the brushes we're a little bit touchy. I mean they picked up too much of my hand jitter it's fine if you have fast confident lines I don't I really wish there was just a little bit of streamlining on those brushes.
Features
Personalize everything from your canvas, tools, gestures, and everything.
Brush quality
Realistic brushes, pencils, and pens that respond to speed, pressure, and tilt with adjustable live smoothing. a wheel or toolbar that you can customize with your favorite tools and preferences.
Better canvas
An infinite canvas with many types of paper and custom grids. In addition, with an infinite layer system with automatic classification and adjustable opacity.
Duplicate your work for easy iterations in the gallery and on the canvas. Drag and drop images directly onto the canvas for reference or tracking.
Color options
The COPIC color wheel helps you choose colors that look great together. Flexible vector-based sketches move and adjust the drawn by tool, color, size, anti-aliasing, and scaling.
Draw with live alignment and snapping tools for clean, accurate sketches.
Huion Sketch is a free drawing and painting app that brings you professional, easy-to-use art tools that allow artists to create great sketches, paintings, and illustrations.
As a drawing app, it has some great features specially designed for Pen tablets that were designed as cursors for Samsung smartphone users.
Animate & Make animation become an animator through the "Create Animation" function.
Export your animation artwork to Gif format and share it on Youtube, Facebook, Instagram, and TikTok.
Features
Light User Interface
An easy user interface gives more room to think and design and allows you to focus on creating yourself. Plus, there are quick sliders that let you quickly adjust the thickness and opacity of the brush.
The new dark user interface, simpler and more powerful.
Brushes Features
41+ kinds of common and delicate brushes and 37 customizable brushes qualified for most of your artwork.
Brush Studio – design your own custom brushes also, stabilizer smooths and perfects your strokes in real-time.
Insert your desired shape like line, rectangle, and oval.
Color Features
Pick the exact color with Eyedropperalso you will be provided the Paint Bucket Tool.
The previous Color and Color Palette will be auto-saved. And simultaneously, 7 kinds of colors you used recently, easy to switch to color you used.
Layer Features
Canvas Flip horizontally and vertically, Symmetry visual guides with well-organized layer function interface.
Up to 100 layers are supported to make your creation efficient.
You can access over 20 layer blend modes for industry-grade composition.
Multi-touch gestures
Some of the gestures are two-finger tap to undo, two-finger pinch to zoom in/out and rotate your canvas, three-finger tap to redo.
Long-press the display to prompt the Eyedropper tool, create the proper circle, rectangular, and immediately line at a particular attitude with any other finger tap.
Other features
Quickly undo and redo through the quick button or press keys of the graphic tablet.
Count your stroke and witness every step you turn your ideas into reality. Every stroke you draw will be recorded and counted precisely.
What is a drawing app?
As technology keeps developing and also many artists tend to explore all kinds of art that is now being provided in software apps than buy each product every now and then. So the software app program helps you to create, draw, or design a vector image with multiple pixels.
What makes software, the best drawing app?
As to speak of which all these applications are actually competing with the procreate application. The best drawing application for you depends on various factors, including the need for the drawing either as your hobby, or professional logo designing or comic artist, and extra features you're interested in.
To find the best drawing app you have to look at some of the features for example
How many brushes will be provided.
Canvas size and whether they are customizable.
How smooth the brush slides.
Cloud space to save your art.
How many layers can be created and easy merging without breaking.
How much that you can zoom to add details.
Conclusion.
Art flow and Infinite painter are my top recommendations for most people because they're better and feature.
Plus, they include a ton of intuitive and powerful features that make drawing and illustration art more straightforward for an artist than ever.
But that doesn't mean they're the perfect choice for you. To recap all of my top picks, and who they work well for, here's the full list:
Also Read: 10 Best 2D Animation Software in trend
I found these seven drawing apps for my personal hobby and hope you will also find them useful in your passion for digital drawing and find my ratings right according to its features and limitations. Share this blog with your drawing pal to have a pleasant experience in drawing your art. Follow our PublishSquare for more blogs like this.