7 New Relic Free Alternatives (Open-Source & Paid) – Application performance Monitoring software to strive to detect and diagnose complex application performance problems to manage an expected level of service.
Therefore the use of APM is common for web applications, which is better suited for more detailed monitoring techniques.
In addition to measuring the reaction time of a user, the reaction times of the components of a web application can also be monitored in order to identify the causes of delays.
There are also HTTP devices that can decrypt transaction-specific response times on the application's web server layer.
Thus, let us look at alternatives that are free to use :
Atatus
Datadog
AppOptics
Sumologic
Instabug
Elastic Observability (Open Source)
SigNoz (Open Source)
Firstly, New Relic. is cloud-based software to assist in maintaining websites and applications to achieve the best monitoring service.
Key Features:
Firstly, works with eight programming languages with popular open-source tools.
Secondly, enabling instrumentation ubiquity.
Thirdly, it finds root causes and fix issues rapidly.
Optimize the performance on the whole application by combining key metrics.
Detects anomalies, deficiencies.
Finally compare changes, dependencies & configurations.
Pros:
Easy Dashboard sharing
Time saver
Cons:
Complex query builder.
Poor UI decision.
No training or support was provided.
Quite expensive to acquire many other features.
Atatus is the best free Alternatives to New Relic which makes sure that your teams have a deep understanding of all the further key performance indicators required to deliver high-quality, reliable software.
Pros :
Easy to use UI interface
Support for all major langauges.
Insightful metrics with runtime support.
Has RUM, Synthetics, Logs and Server.
Moreover, it has dedicated support
Easy to install without changing your code.
Cons:
No cons were found during the research
Explore Full Stack Observability with Atatus for Free
Datadog is the best free New Relic Alternatives with essential monitoring and security platform for cloud applications.
They collect end-to-end traces, metrics, and logs so that application, infrastructure, and third-party services are fully noticeable.
Additionally, these features assist companies and businesses protect their systems, avoiding downtime, and ensuring customers get the best user experience.
Key features.
SaaS and Cloud providers
Automation tools
Meanwhile it monitors and instruments
Source control and bug tracking
Database and common server components
In conclusion all the listed integration are supported by Datadog
Pros:
Firstly, is has best Dashboards and Visualization.
Secondly, best multi-cloud management.
Furthermore, it automatically aquire and analyze logs, latency, and error rates.
Spend Forecasting and Optimization.
Finally, easier to look trough logs.
Cons:
Features are quite overwhelming.
Outdated instructions.
Below average in automation.
Furthermore, has low Visualization of infrstructure.
AppOptics is a Solarwinds APM tool that gives simplified service-level and trace-level root cause summaries to help you troubleshoot application performance issues
Pros:
Includes RUM, Server monitoring.
Easy installation.
Best design.
Cons:
Less features compared to NewRelic
Sumologic is an outstanding free alternative to New Relic. in fact, it helps to build, run and secure modern applications and cloud infrastructures.
Similarly Sumo Logic also provides its platform as a multi-tenant SaaS architecture, across multiple use-cases, enabling businesses to succeed in the intelligence Economy.
Key Features
Operations intelligence to monitor troubleshooting in real time.
Security intelligence acts on threats instantly.
Also, the Business Intelligence to make smarter decisions.
Pros:
User-friendly to manage.
Simplifies UI
Clearer dshboard layout.
Cons:
Firstly, it queries are not industy stndard.
Also, no autocompletion.
no macros.
Instabug is another alternative to New Relic. with Crash Reporting, and Bug Reporting tools will help optimize your app's performance and deliver the high-quality experience your users expect and deserve.
Pros:
Best Visual flow.
Also, it has team organization.
Greater bug tracter.
Cons:
No editable options for the survey.
On the whole, the paid version is expensive
Elastic observability is an excellent New Relic alternative that is free and open APM. Extend to application metrics with free, open Elastic APM. See exactly where your app is hanging so you can fix bugs quickly and feel comfortable with the code you're pushing
Pros:
Highly affordaable.
Best Slack observability.
Cons:
Firstly, low number of metrics
Not a great visualization.
Less automation in moonitoring capacity
#7 SigNoz (Open Source)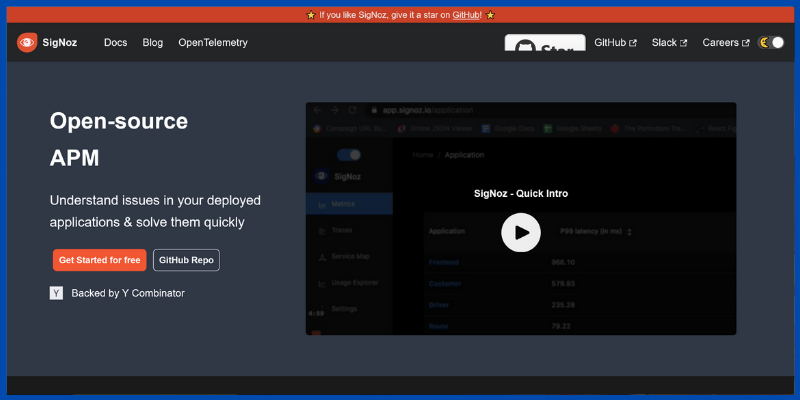 Finally, SigNoz is another best alternative of New Relic with native support for OpenTelemetry, an emerging industry standard for instrumentation simultaneously, built on the latest Golang stack and ReactTypescript loved by developers. Monitor your usage and set your own retention period and sampling rate based on your needs.
The industry relied on Kafka and Druid to drive the business forward. Moreover, No scaling problems, never.
Pros:
SigNoz is built to support OpenTelemetry natively.
Provides a unified UI for both metrics and traces.
Cons:
Very young.
It is limited to particular use-cases of distributed tracing and also, has metrics monitoring
Lower monitoring tools.
Meanwhile average levelof log management.
Conclusion:
My choice and recommendation will be Atatus and Datadog to have the best full use of the website, affordable and to use its features to its whole.
Atatus – Best as it is totally simple and affordable.
Take time to select the best one, I hope my blog helps you to have an idea quickly looking at each of the APM features. I found these Best APM sites out of my own curiosity and hope you will also find them useful in your monitoring experience and find my ratings right according to their features and limitations. Share this blog with your friends and follow our PublishSquare for more blogs like this.