StartPage Alternatives – StartPage is the most private search engine in the world, according to its claims.
It doesn't maintain logs.
Startpage neither stores the IP addresses of users of its services nor places tracking cookies on their computers. In fact, the business asserts that it is unaware of who its clients are.
It upholds the assurance of complete user privacy. It doesn't engage in data sharing or selling.
Also, it allows you to browse the web privately.
All of your searches on Startpage are HTTPS-encrypted.
Users are protected from common internet surveillance by encryption. Nobody can see what you've been looking up or clicking on even if they are keeping an eye on your connection.
It has an easy New interface that you may personalize to suit your needs. In a second, you can change between different colors and shapes.
Features:
Adaptable search engine
No data tracking
No data tracking
Full anonymous view
Price
Free
Now let us have a look at the StartPage Alternatives:
#1 DuckDuckGo
DuckDuckGo is the market share-sixth-largest search engine.
The engine is easy to use and includes a browser extension that facilitates private browsing.
Moreover, It currently counts over 80 million users and a 0.68 percent global market share.
Although the search engine functions similarly to Google, it is very well-liked by those who prefer privacy.
The Bang search feature on DuckDuckGo is unique in addition to its privacy advantages.
Users can browse other websites directly from DuckDuckGo without leaving it by using the shortcode instructions in the Bang search.
This is one of the Best Startpage Alternatives.
Features:
Firstly, it has a very simple and friendly interface.
Secondly, there are no advertisements present here.
Thirdly, No user data is tracked or shared.
DuckDuckGo users can immediately search on another website.
Price
Free
#2 SearX
SearX is a specific search engine for those who are more technically minded. It utilizes more than 80 other search engines as a metasearch engine.
It offers connections that are safe and encrypted.
Additionally, SearX doesn't disclose or collect user data, which restricts profiling and monitoring and raises online privacy for users.
The engine is more adaptable to utilize because it also provides a number of fantastic preferences and setup possibilities.
Also, it is exceptionally quick, giving you accurate answers to your concerns immediately.
Features:
User privacy protected
Proxy Search
Open-source
Fully adaptable
Price
Free
#3 Ecosia
Ecosia is a private search engine, and it is not allowed to track or sell your personal information.
Also, it's currently available in 7 different languages and depends heavily on Bing for its search results.
For consumers who value a simple, clear, and basic user experience as well as charitable giving, Ecosia is a respectable alternative for good search engines.
The engine is also available as a mobile app and browser plugin, both of which maintain user privacy in a similar way.
Features:
It's easy to use.
Availability of Chrome.
Mobile app integration.
No data tracking or sharing.
Price
Free
#4 Swisscows
Swisscows is another well-known Startpage Alternatives that offers its customers a secure environment to browse the internet without worrying about illegal data breaches.
The fact that Swisscows has its own private servers is a major benefit.
For instance, no third parties are involved in the transmission of the users' data and information.
Also, it is simple to establish as your default browser page and easily interacts with your browser.
The search engine does not keep track of your online searches or sell your information to marketers.
Features:
No data tracking or sharing
Works easily with the browser.
Language and region options can be set.
Price
Free
#5 Qwant
Qwant is a search engine that fully focuses on privacy and takes pleasure in not keeping track of its users' search queries or selling their personal information for advertising.
Moreover, the engine divides your results into three main groups, primarily news, social, and web.
Additionally, it utilizes AI to offer its customers access to a music area created specifically to assist music lovers in finding new songs and lyrics.
By beginning your search on Qwant with "&," you can quickly access some of your other favorite websites.
Features:
No tracking searches
Dedicated sections for children and music
Automated categorization of search results
Simple and Elegant UI
Price
Free
#6 MetaGer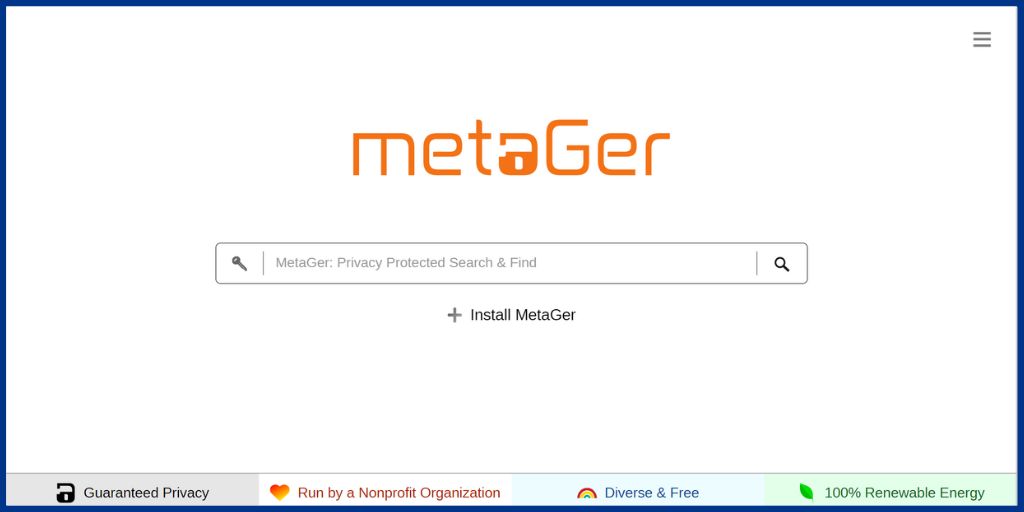 MetaGer is similar in service to Swisscows, but completely the reverse. Both of these search engines place a high value on user privacy.
You can set MetaGer as your default engine and it comes with a browser app.
With MetaGer, you can search for anything and instantly access it. As a non-profit, they have nothing to gain by selling your personal information.
It connects perfectly with your browser, making it simple for you to choose it as your default search engine.
This is also one of the good StartPage Alternatives.
Features:
Unfiltered, unbiased search engine.
A browser add-on is accessible.
Open-source access to maps without location tracking.
Price
Free
#7 Mojeek
Mojeek is one of these list's unique search engines. It respects user privacy and doesn't track or distribute user information.
But it does have a key characteristic that sets it apart.
It organizes the search choices of its users. The three main categories of search results are web, photos, and news.
The fourth category is what actually distinguishes this engine.
Besides that, it is a typical private search engine that enables users to browse the Internet privately.
Features:
Private search.
Classify search based on photos, news, and the web.
Can Search categories based on 5 emotions.
Create personalized preferences.
Price
Free
#8 WolframAlpha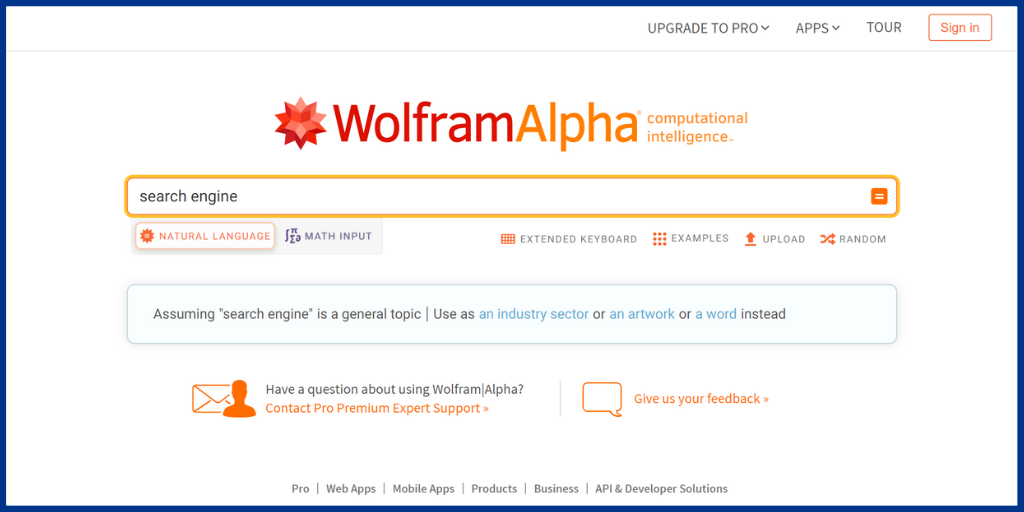 WolframAlpha enables you to calculate expert-level answers utilizing Wolfram's groundbreaking algorithms, knowledgebase, and AI technologies.
The website contains a large and extensive bank of expert information that enables it to provide results at random.
It is organized into sections on Society & Culture, Everyday Life, Mathematics & Technology, and Science with the goal of spreading the knowledge of professionals.
In order to find outcomes related to an image, you can also upload images.
It includes a mobile app with adjustable preferences and a browser extension.
Features:
Customizable settings and preferences for searches.
There is a mobile application available.
Can upload photos.
Price
Free
#9 Disconnect Search
Disconnect Search Engine allows you to use a preferred online search engine to conduct anonymous searches.
By obtaining search results from external search engines and presenting them in a more secure way, it offers a secure search experience.
Your data is not tracked, and it is not shared with advertising. The engine is also quite simple, without any pointless filters or settings.
A browser extension included with Disconnect Search enables you to prevent tracking websites and speed up page loading.
Features:
Privacy Focused.
Browser extension
Load pages faster.
Price
Free
#10 Bing
Bing through Microsoft Currently, Bing is the second-largest search engine behind Google.
It's easy to use and provides beautiful background visuals for a more immersive experience.
Additionally, because the results are displayed as sizable thumbnails that can be viewed by hovering over them, Bing is perfect for video searches.
Similar to Google, Bing is packed with functions of its own, like the capacity to translate, convert currencies, and track flights.
Features:
Data Security and Structuring.
Good Interface.
Customizable homepage alerts.
Reliable outcomes on par with peers.
Price
Free
Conclusion:
These are basically the top 10 search engines I would suggest.
My recommendation for the best search engine among these is DuckDuckGo because it has a clear privacy statement and doesn't gather any data or personal information from you.
Hope you find this blog helpful and if it is so share it with your friends. Follow Publish Square for more blogs like this.
Further Readings: