Are you trying to cancel your Twitch Subscription on your desktop & mobile device?
No need to worry! There are many ways to unsubscribe from your channel. Let us have a look at the article.
Twitch is a video streaming website that allows you to watch people play video games in an interesting way. Gamers who live-stream their matches use the app to play their favourite games while receiving real-time feedback on their activities.
Also, users with specialized skills can broadcast their performances live on the platform.
Similarly, Talk shows, sports, and podcasts on music, food, and travel can all be found on Twitch.
Streamers can also make money by selling subscriptions and collaborating with Twitch.
Even Viewers are interested in supporting streaming channels, which have developed as a new kind of entertainment.
Subscriptions to Twitch are one of the most effective methods to support a Twitch creator.
The streamer can depend on that money every month until the subscription is cancelled, especially if it is a regular Twitch subscription.
Features:
Twitch has three subscription rates, ranging from $4.99 to $24.99 each month, for individuals who find themselves growing increasingly engaged.
Eventually, Custom emotes, sub badges, channel points, ad-free viewing, sub-only chat, and subscriber streams are all included in the membership package.
Types of Twitch Subscriptions
Subscriptions: A subscription enables a viewer to support your channel by making a one-time or monthly payment of at least $4.99 per month.
By paying $9.99 or $24.99 a month, subscribers can move up to a higher stage and offer higher levels of support.
Gifted subscriptions – Gifted subscriptions are a way for visitors to give another customer a one-month subscription to your channel.
Moreover, this subscription allows you to access your channel in the same way that a regular subscription does, and subscribers can choose to extend their membership once the first month expires.
Prime gaming – Prime Gaming is a part of Amazon Prime and provides customers with a variety of benefits, including free monthly channel subscriptions.
Also, Members that support Prime Gaming with a free subscription are only set up once, therefore it's a good idea to remind your Prime Gaming subscribers to renew their subscriptions on a monthly basis.
Now Let's take a look at how to cancel your Twitch subscription on a computer or mobile device.
How to cancel Twitch subscription on Desktop
Open your twitch account and sign in with your password.
Click on your profile icon which is on the top right corner of the page.
So, in the list, you will see various options over there such as Channel, Video Producer, and Safety.
In the list, you need to click the icon subscription.
And then click on the channel to which you want to unsubscribe.
Now click on the cog settings icon which will be present in the top right corner.
Additionally, a list of three options now appears.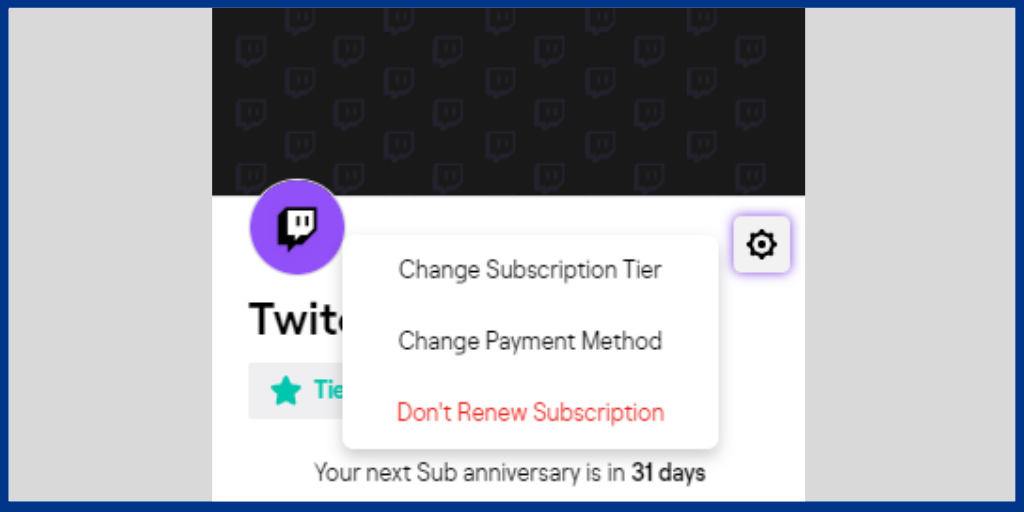 Click on Don't Renew Subscription.
Now you'll be taken to a page where you'll be asked to select a reason for cancelling your subscription.
Choose a reason from the drop-down menu, and then click Don't Renew Subscription.
So that's it.
How To Cancel A Twitch Subscription On Mobile(iPhone)
Firstly, through your mobile device log in to your twitch account.
Secondly, tap on your profile icon which is on the top right corner.
Thirdly Click on the settings icon.
And then select subscriptions from the drop-down menu.
So Here you'll find a list of your current subscriptions.
Select "Don't Renew" from the drop-down menu for the one you want to cancel.
How to cancel a Twitch subscription on Android
Cancelling your twitch account on your android device is as easy as to do: Follow the below steps
Open the twitch app on your mobile and log into your account.
Now click on your profile icon which is on the top left corner. A list of options appears on your device.
Then from the list select subscriptions.
Your active Twitch subscriptions will now be displayed in a window.
Choose the subscription you want to cancel from the drop-down menu.
Finally, select the Cancel Subscription button.
How To Check Who You Are Subscribed To On Twitch?
Click on your profile photo in the top right corner of the Twitch app
Now select subscriptions from the dropdown menu.
You'll now be in the subscription controller of your account.
Finally, you'll be able to see any active subscriptions you have under Your Subscriptions.
Conclusion:
So that's how you cancel your twitch subscription channel. Both the ways are more over less the same. Try this out and let us know whether you can cancel the subscription.
If you like this blog, share it with your friends. Follow PublishSquare to get more updates on blogs like this.
Further Readings: