In this blog post, we are going to see about sales compensation software and top software in this category with its features, pricing and Rating details.
Table of Contents:
What is Sales Compensation Software?
It helps to automate the administration and accounting process of incentive plans and commissions. This software works based on employee role, sales type, so employees get commissions according to their performance
Sales Compensation software allows salespeople to calculate compensation base on their closed deals and provides real-time reports.
Top Sales Compensation Software:
Spiff is an automation based commission calculation software. It makes the manual labour commission and complex commission process into a simple task.
Automatic reports engage the sales teams more in sales and they can see their sales report and commission details easily in their dashboard.
Features of Spiff:
It can be integrated with CRM, ERP and payment processors, so no special connections are required
The real-time insight feature allows each sales team member to visualize the trend, sales and commission on their dashboard.
Using android and ios platforms every sales member can see their dashboard and their company growth wherever they are.
G2 Rating: 4.8 out of 5 stars
Pricing: We have to Request a custom quote
2. CaptivateIQ Sales Compensation Software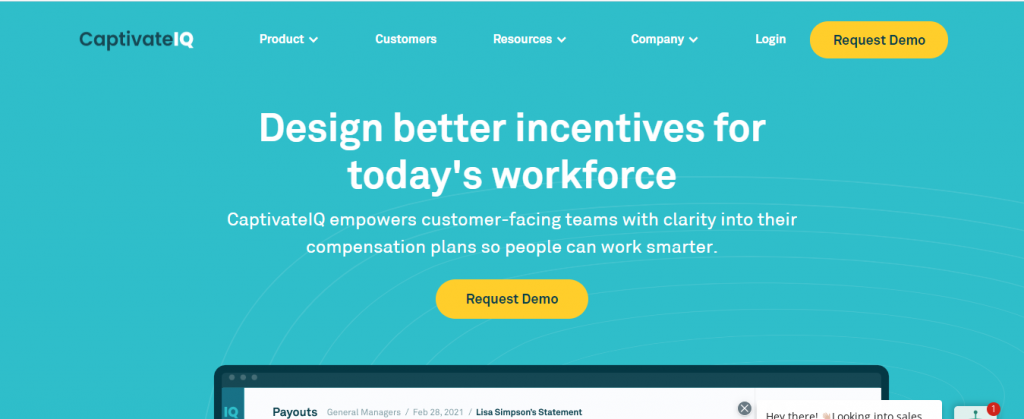 CaptivateIQ is a modern software used to automate the incentive plans processing, so companies can save hundreds of hours of time
Big companies like Intercom, Reddit, Hopin are using Captivate to manage their commission and incentive plans
Features of CaptivateIQ:
Flexible platform, so it automates any compensation plans
No coding Saas Platform, so any business can use it
Easy monitoring of teams and their performance insights under a single dashboard
G2 Rating: 4.6 out of 5
Pricing: We have to request a demo to know the pricing details
Varicent is the leading sales management software in the industry. The company can easily plan, operate and pay effectively, so sales streamline flow will continue without a problem.
Features of Varicent:
It has an Incentive Management Solution that automates the entire process of incentives payment, so no time delays or issues on payment.
It has an augmented intelligence solution, so teams can spot trends and plan their sales effectively.
Named as a Leader in Gartner Magic Quadrant seven times
G2 Rating: 4.5 out of 5 stars
Pricing: We have to request a demo
4. Performio Sales Compensation Software
Performio was built by sales experts, so all sales-related problems are analysed and solved easily.
They have over 15+ years of sales comp in hundreds of companies, so it resulted in a product that is highly flexible and easy to use
Features of Performio Sales Compensation Software:
It has a library of plans, so building the plan your company need is easy
No Code visual editor enables to use of software for all kinds of users
It has fast implementation features, so less time consumption
G2 Rating: 4.3 out of 5 stars
Pricing: We have to request a demo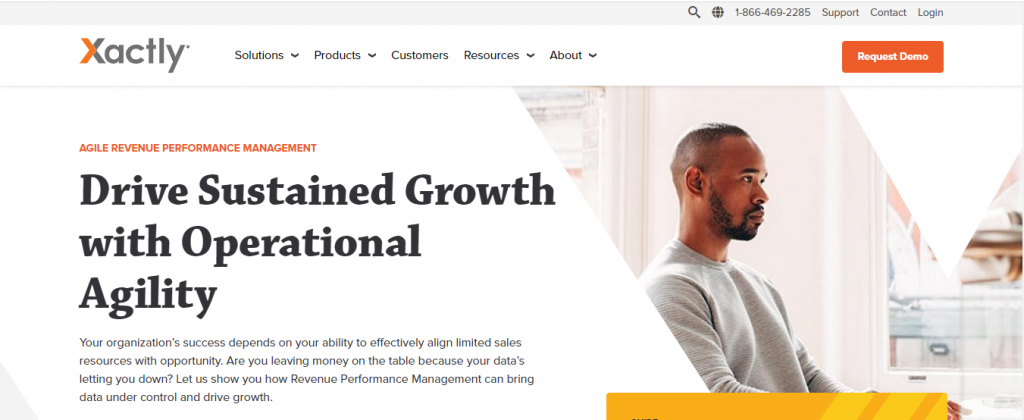 Xactly Incent is a cloud-based incentive compensation software that is best to manage employee sales and their incentives.
It has a flagship product, so an enterprise can build their customizable incentive and sales plans
Features of Xactly Incentive:
It has a set of customizable plans which is highly accurate so the ROI of the organisation will get increased
Xactly Incent has an automation process that manages the repetitive tasks, so errors can be reduced and low chance of shadowing accounts
Easy Integration with CRM, ERP and HCM solutions, so high system efficiency
Andriod and ios support, so reps can check their commissions anytime.
G2 Rating: 4.2 out of 5 stars
Pricing: First we have to request a demo, then they will discuss their pricing
6. QuotaPath Sales Compensation Software
Quotapath is the best commission tracking tool built by salespeople for salespeople. It has an automated commission process, so salespeople will get the commission on time with any error
Quotapath has a real-time sync process, so salespeople and managers can get all real-time data under a single dashboard
Features of QuotaPath Sales Compensation Software:
It has a forecasting feature that allows salespeople to see their potential earning from the sales pipeline
It takes a minute to set up the quota path and it can be easily integrated with CRM (free) to provide an easy display of deal data
QuotaPath eliminates the manual data entry, so salespeople can focus on closing the deals and arranging demos for customers
G2 Rating: 4.8 out of 5 stars
Pricing: $0/year for Individuals and $324/year for teams
SAP commissions are one of the end-to end-software. It is configurable software, so the business can manage their sales to payment effectively. This software provides solutions for both direct and indirect sales forces.
Features of SAP Commissions:
SAP commission helps businesses to reduce error, saves time and align sales process to meet the goals
It has pre-configured logic plans, so easy to plan, operate, monitor and make spend money wisely
It has a set of API, so easy integration with CRM, ERP, HCM or with order pilling software
G2 Rating: 4 out of 5 stars
Pricing: We have to request a custom quote
8. Oracle Sales Performance Management
Oracle Sales Performance Management software is different from other software because it addresses real-world sales problems to its customers and motivates them to work and produce effective sales results
Features of Oracle:
It provides real-time data on problems and gives solutions to solve it
Oracle motivates the workers and mentors the team with best sales practices.
G2 Rating: 3.8 out of 5 stars
Pricing: We have to request a demo
Sales Cookies is a cloud-based sales compensation software. It manages each and every step of sales from participant enrollment to payment.
Sales Cookies is suitable for all size of enterprises who need to automate the repetitive tasks and ease their work
Features of Sales Cookies:
It provides all type of features an enterprise need with SMB friendly cost.
Sales cookies software is so flexible for all incentive plans and all types of currencies.
It provides a personal dashboard for each sales rep to monitor their performance and calculate their commissions.
G2 Rating: 4.9 out of 5 stars
Pricing: Free trial for 30 days, then $30/user/month
Varicent Concert is an automated sales compensation software. It is also made by salespersons for salespersons and it helps to manage and improve compensation under a single system
Features Of Varicent Concert:
It allows customizing our own incentive plans without any coding and it brings the data we want, so it is very effective
Varicent Concert provides real-time rem=commendation and analytics to improve our incentive plans
It provides expert incentive plan support
G2 Rating: 5 out of 5 stars
Pricing: Plan starts from $59/month/payee(for < 20 payee)
Conclusion:
In conclusion, If you are running a business and you want to automate some repetitive tasks and regular your incentive payments for employees, then you definitely need sales compensation software. Above we listed a top sales compensation software which is having excellent customer support, easy integration and affordable cost and easy to use interface. Hope you find this blog helpful. Follow our PublishSquare for more content like this.