Are you a Blogger, a business owner, or Digital Marketer? If your answer is yes, then you heard about Mailchimp. It is the best Email Marketing Tool available in the market. But Mailchimp also has some limitations, so you need some better Mailchimp alternatives, Right?
In this blog, we are going to see about the best Mailchimp Alternatives in 2022 with its features and pricing details.
But before that let's see some limitations of Mailchimp, so you can choose the best Mailchimp Alternatives that suits you better
Table of Contents
Limitations of Mailchimp:
Mailchimp Interface is little difficult to use, so difficult for beginners
Changing the Mailchimp settings is quite tedious
It is quite expensive, so it is not affordable by all
The customer support is poor for free plan users
Mailchimp doesn't supports affiliate marketing
Top Mailchimp Alternatives
HubSpot Email
The HubSpot email is one of the marketing tools provided by HubSpot. HubSpot offers a variety of services to its users and most importantly the offers are all conveniently offered through its easy email dashboard.
It provides complete email automation tools, so users can quickly create branded emails through the Hubspot platform
Features of HubSpot Email:
Users can create a workflows and trigger automatic emails when conditions are met, so it replaces the manual labor action
It allows users to send personalized emails, so it improves customer engagement
HubSpot offers free lead capture feature, so leads data can be easily available to users
Deep Email Analytics, so users can undertand their customer interests better
Visit HubSpot to get their latest updates
Limitations of HubSpot Email:
The pricing plans are unstable, they can change it anytime
Manual Lead Scoring features are only available for pro and enterprise plan users
Pricing:
HubSpot is offering whole marketing plans, so users have to pay for the whole marketing tools package and the pricing varies according to the number of contacts
$45/month Starter plan for 1000 Marketing Contacts
$800/month Professional plan for 2000 Marketing Contacts
$3200/month Enterprise plan for 10000 Marketing Contacts
Visit HubSpot Marketing tools pricing to get their latest pricing updates
Constant Contact
It is one of the best Mailchimp Alternatives because it has some good features like Mailchimp and most importantly they are offering many discounts frequently.
With Constant Contact, users can launch an email campaign, generate social media awareness, build websites, add products, boosting sales. So it is an all in one marketing tool for users
Features of Constant Contact:
Users can easily create their list in Constant Contact using their many contact creation feature, so users can finish the tedious list creation process easily
Easy Campaign setup tools, so users can create campaigns quickly
Autoresponder feature allows users to trigger various emails using easy conditions
Customizable campaign tracking feature
Visit Constant Contact to get their latest updates
Limitations of Constant Contact:
Limited Free trail features
Automation process can be confusing for beginners
Limited Customer support
Pricing:
Constant Contact is offering two types of pricing plans and it is based on the number of contacts
$17/month Email plan
$39/month Email plus plan
Visit Constant Contact Pricing to get their latest pricing updates
Sendinblue
It is one of the Mailchimp Alternatives that offer good solutions for customers' e-marketing needs. Sendinblue is a competent communication tool that provides numerous solutions for users email campaigns, marketing automation, as well as SMS marketing
Features of Sendinblue:
Best email templates, so users don't need coding knowledge to create their email campaigns
Easy Drag and Drop email creation
Deep analytics feature with CTR tracking
Scheduling and Autoresponse features are available
Offers free plan for upto 9000 mails per month
Visit Sendinblue to get their latest updates
Limitations of Sendinblue:
It doesn't recognize extra fields such as date and gender
Limited intergration features when compares to other Mailchimp Alternatives
Pricing:
Sendinblue has 4 different pricing plans with unique features and each plans pricing varies based on the monthly email count
$0/month free plan with limited features
$20/month Lite plan upto 10000 emails without daily limit
$52/month Premium plan upto 20000 emails with all lite plan features and some additional features like facebook ads, landing pages support etc
Customizable Enterprise plan
Visit Sendinblue Pricing to get their latest pricing updates
ConvertKit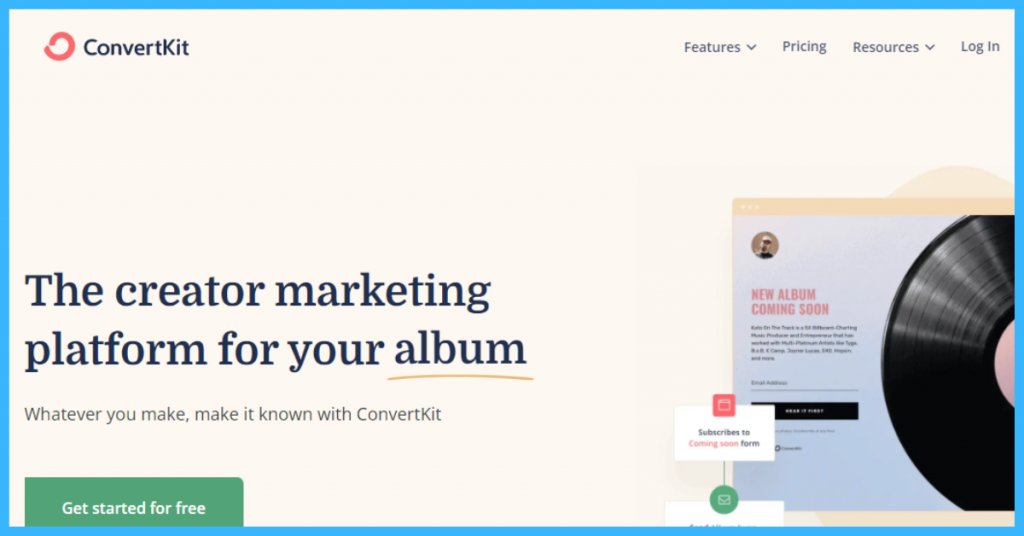 It is one of the best Mailchimp Alternatives software that is made exclusively for bloggers and other content creators who want to reach a more potential audience. So it is a Powerful Marketing Tool that is built with ease of use in mind.
Features of Convertkit:
Easy WordPress integration, so embedding codes and form can be easy
The subscriber system is tag based, so user can easily segment their users
It provides visual automation builder
They don't charge for duplicate subscribers
24×7 live chart and email support, so great customer service
Visit ConvertKit to get their latest updates
Limitations of ConvertKit:
Limited A/B testing function
Template customization options are limited, so users have to use the given template
For Autoresponders test feature is lacking
Pricing:
ConvertKit provides 3 pricing plans that can be billed monthly or yearly but for yearly billing, users can use all the features for two months. The pricing plan is based on the number of subscribers users have.
$0/month Free plan for upto 300 subscribers for new creators who are creating their list
$9/month creator plan for upto 300 subscribers for growing creators who are automating their work
$25/month creator pro plan for upto 300 subscribers for established creators who want to scale their business
Visit ConvertKit Pricing to get their latest pricing updates
AWeber
It is one of the best email marketing tools that helps users to create an email list, design newsletters, automate email marketing etc
Features of AWeber:
Easy to import and host a email list
Quick Markeing and Autoresponder functionality
It allows third part integration
AWeber provides basic ecommerce feature
Entire free plan is available
Visit AWeber to get their latest updates
Limitations of AWeber:
It charges users to host unsubscribed users, so it is expensive
Landing page builder doesn't provide A/B testing feature
Pricing:
AWeber is offering two pricing plans out of which one is free and another one is paid that varies according to subscribers count
$0/month Start Free plan upto 500 subscribers with some limited features
$16.15/month Start Pro plan upto 500 subscribers with all free plan features and additional features
Visit AWeber Pricing to get their latest pricing updates
Which Mailchimp Alternatives suits you?
You have to choose the Mailchimp Alternatives based on your requirements, industry and budget. So, analyse each of the tools mentioned above and choose the one which best suits your business. Here we have listed the Mailchimp Alternatives as per the usage.
Hubspot – Best for bloggers who want to automate their entire workflows
Constant Contact – Best for small businesses and non-profits
Sendinblue – Best for whole free plan seekers
ConvertKit – Best for small bloggers and businesses
AWeber – Best for users who want to automate their entire Email Marketing
Conclusion
In this post, we have seen the best Mailchimp Alternatives. All of the above-mentioned alternatives have their unique features. Hope you find this blog useful. If you like this, share it with your friends and follow our PublishSquare for more blogs like this.
Quick Summary
Further Reading