Are you a social media manager or freelancer who wants to increase your social media reach? Then you may be aware of Buffer. Buffer is a social media management tool that helps users to manage their social media accounts and maintain their different campaigns under a single dashboard. But it has some disadvantages. That is why people like you are looking for Buffer alternatives
Buffer Alternatives are good when compared to buffer because they have a better pricing model and unique features. In this blog, we are going to see about buffer alternatives in detail
Table of Contents
Top Buffer Alternatives
1. Hootsuite
It is a Social Media Management Tool that helps users to access all their social media accounts under a single dashboard. Hootsuite helps users to manage multiple social networks and measure all analytics related to their campaigns.
Features of Hootsuite
The access of the number of social networks it based on the plans and Hootsuite provides more social networks access than other buffer competitors
All in one user interface for all connected social media networks, so easy to users to handle multiple networks
App directory feature that provides 100s of apps, so easy to connect with social networks
Visit Hootsuite, to get their latest feature updates
Limitations of Hootsuite
The user interface is little confusing, so users have to careful with this
It has Deep learner curve
Their pricing cost is less, but users have to pay for each single team member
Pricing
$25/Month Professional Plan with access to 1 user and 10 social media accounts
$99/Month Team Plan with access to 3 users and 20 social media accounts
$594/Month Business Plan with access to 5 users and 35 social media accounts
Customizable Enterprise Plan
Visit Hootsuite Pricing, to get their latest pricing updates and offers
2. CoSchedule
It is one of the best Buffer Alternatives because it is best for small as well as big marketers to ease their work. CoSchedule is more than normal schedulers because it has a set of tools, so it helps to solve many marketing problems.
Features of CoSchedule
So Easy to Publish contents and to create campaigns with that
Users can directly post content for Google Doc to WordPress and other CMS
It provides intergration with many third party apps
Easy to use interface, so users can navigate easily
Foreever free plan with acesss to free calender
Visit CoSchedule, to get their latest updates
Limitations of CoSchedule
Price is bit higher when compared to other Buffer Alternatives
It doesn't allow bulk uploads
The layout is somewhat complicated to understand
Pricing
Free plan with content management, integrations, social media publishing and more features
$29/User/Month Pro Plan with all free plan features, Bulk social media scheduling and more features
Visit CoSchedule Pricing, to get their latest pricing updates and offers
3. Zoho Social
It is a cloud-based social media management tool that helps users to monitor keywords, schedule posts, and manage multiple social networks. Zoho Social is cloud-based, so users can access their accounts from anywhere
Features of Zoho Social
It allows bulk scheduling and keywords monitoring, so users can schedule their posts with good keywords
Zoho Social provides real-time monitoring and sharing, so users can easily collaborate with their team
It has chrome and firefox extensions
This tool has automatic scheduling and post repeating
Visit Zoho Social, to get their latest feature updates
Limitations of Zoho Social
It does not have integration with Whatsapp Business, so it needs improvement
No automatic photo resizer
Reports are little lacking, so it need improvement
Pricing
$8/Month Standard Plan with 7 Channels access
$23/Month Professional Plan with 8 Channels access
$34/Month Premium Plan with 9 Channels access
Visit Zoho Social Pricing, to get their latest pricing and offers
4. Loomly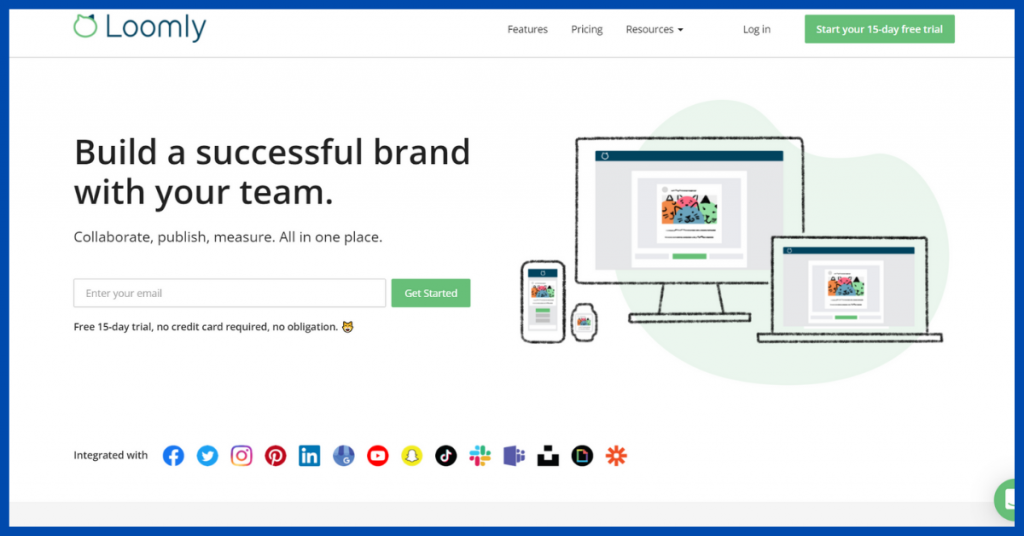 It is a calendar-based content curation tool that helps users to create and schedule their content in their social networks. Loomly is best for freelancers, social media managers as well as small businesses.
Features of Loomly
It has a Library features, so users can store all their content assest in one place
Loomly has a guide feature, so with that content creation is quite simple
It automatically generates posts and ads previews, so user can easily review it before publishing
Loomly has automatic and manual publishing options, so users can easily set their content for social medias
It can automatically push facebook and Instagram ads
Visit Loomly, to get their feature updates
Limitations of Loomly
It cannot automatically schedule posts with multiple posts
Loomly doesn't have hashtag tracking facility
Pricing
$35/Month Base plan with access upto 2 users
$79/Month Standard plan with access upto 6 users
$172/Month Advanced plan with access upto 14 users
$359/Month Premium plan with access upto 30 users\
Customizable Enterprise plan
Visit Loomly Pricing, to get their latest pricing updates and offers
5. Oktopost
It is one of the buffer alternatives that help users to fully manage and optimize their social media accounts in a single dashboard
Features of Oktopost
Users can plan and schedule their post easily
It allows users to connect their social medias with automations, so users can easily do their work
Helps to increase users social reach with advocacy tools
Visit Oktopost, to get their latest feature updates
Limitations of Oktopost
Interface is difficult to navigate
Less integration option when compared to other buffer alternatives
Pricing
Users have to contact them or book a demo to know their pricing details
Conclusion
In this, we have seen the top 5 buffer alternatives that will boost your social media reach and engagement. These buffer alternatives have many good unique features when compared to buffer. The above tools are providing either a free trial or free account, so try those before purchasing its plan. Hope you find this article helpful. Share with your colleagues and follow PublishSquare for more blogs like this.
Quick Summary
Further Reading