For a company, project management software is very important. Because it helps them to manage that project under a single dashboard. It is one of the project management software that is used by top brands for its visual nature. But different company for business needs different project management tools according to their needs. There are many project management software that provides better service and features than Airtable. So in this blog, we are going to see about the top Airtable alternatives in detail. But before starting our blog let's see what is Airtable, its features, and its limitations
Table of Content
What is Airtable?
It is a low-code software platform for building collaborative apps. With a table, you can customize your workflow collaborate, and achieve your goals with your teammates. Its user interface has very simple and friendly and it is widely used for data management and collaboration.
Features of Airtable
Interface Designer – with this you can visualize an interactive interface that gives all information your need. So with this, you can organize all your workflow and take actions
Views – with this you can explore different ways to view your work data and information. This will be like an advanced spreadsheet with a more customizable option
Automations- with this you can simplify and streamline all the workflows regularly
Sync – with this you can think of all the data across different teams
Reporting – with this you can build your reporting with no code interface and you can see your progress
Limitations of Airtable
Permission is not much customizable
Automation and integrations are limited
Workspace logic is expensive
It is an online based platform, so it is not very helpful in physical world operations
Top Airtable Alternatives
#1 Agiled
It is an all-in-one project management to and it is widely helpful to manage employees, clients, and leads. In the school, you can create a white-labeled portal for each client, so it is very easy.
Features of Agiled
Free plan with limited features
It is here one-stop solution for business so you can use invoicing, contracts, finances, and employee management under the single dashboard
It has templates so you can create your project very easily
You can invite your client, and team and share the documents very easily on time
With that easy-to-use CRM, you can manage contacts and accounts.
It is also an option to schedule meetings, make notes, create tasks, save files and track all activities for contact and account
Agiled also allows you to track your expenses, add credit notes, accept and track online payments, send estimates, etc
Here you can manage all your employee's needs like attendance, leaves, holidays, and events
Additionally, you can do time tracking, create professional contracts, create professional proposals, manage tasks, and start selling products online
Pricing
Agent as four pricing plans, so you can choose the plan according to your business, needs
$7/month Solo pack which is best for solopreneurs
$15/month starter plan which is best for small teams
$45/month Premium plan which is best for medium-sized teams
$79/month business plan which is best for large business
Visit, Agiled to know their latest updates
#2 Stackby
It is one of the perfect are table alternatives because it is like a missing of Airtable. It is a kind of sheep but it works like a database and it is supercharged with API and automation, so you can do many functions with this Stackby.
Features of Stackby
It has a 7-day free trial
To use this you don't need any coding knowledge or training
You can create collaborate and automate anything in real-time
It has 25 + unique column data types so you can build your perfect database easily
With this, you can easily connect columns to services so it will pull data automatically into your table and updates it in real-time. So no more manual entry is needed
In addition to this it as solutions for marketing, sales, project management, HR, and operations
Pricing
It has 5 pricing plans with monthly or annual billing options here I am showing the monthly pricing of Stackby
$0/month free plan with 10 stacks, 2 MB file upload, 1000 rows per stack, 2 weeks revision history, etc
$5/month personal plan for a single user with 15 stacks, 4 MB file upload, 350 Rows per Stack, 3 months revision history, etc
$9/month Economy plan for small teams with 25 stacks, 5 MB file upload, 7000 rows per stack, 6-month revision history, and more
$18/month business plan for growing teams and comprehensive collaboration with 50 stacks, 25 MB file upload, 50000 rows per stack, 1-year revision history, etc
Enterprise plan for companies with advanced admin needs like security access and support. To get this plan you have to contact their sales team
Visit, Stackby to know their latest updates
#3 Nifty
It is one of the best Airtable alternatives and it is best for remote teams. It is here remote collaboration that can control your team's daily projects, tasks, and communication activities through automated reporting.
Features of Nifty
It is also a one-stop solution for your project management and team maintenance
You can set visual timelines for your goals and build team alignment
With Nifty you can flexibly organize prioritize and track your team's daily work
It has a discussion tab which apps like knowledge of because all your team members can join and share their ideas there
It is Google doc integration so you can create docs notes for your project and share it with anyone
Automated reporting will make the reporting process easily by tracking the daily activity of the team
It is a forever free plan for unlimited members
Pricing
Nifty as five pricing plans with monthly or annual billing options. Its annual plans received up to 20% offer
$0/month Free plan with 100 MB storage space and two active projects etc for unlimited team members
$39/month Started plan with 100 GB storage space, 40 active projects, etc for 10 team members
$79/month Pro plan with 500 GB storage space, unlimited active projects, etc for 20 team members
$124/month Business plan with 1TB storage space, unlimited active projects, etc for 50th members
$399/month Unlimited plan with fully customizable features. To buy this you have to contact their sales team
Visit, Nifty to know their latest updates
#4 Basecamp
It is one of the best project management tools and Airtable alternatives. But this you can manage your project teams and your entire company's online activity.
Features of Basecamp
You can create a separate place for each project or team
To manage all your project team activity it has a message board, to-do list, group chat, schedule, automatic check-ins, docs, and files sharing
It has iOS Android Mac and PC apps and its support integrations with some popular apps
Pricing
It has two plans one is free and another one is a paid with 30 day free trial without a credit card
For your entire team with unlimited messages, real-time chat, to-do lists, schedules, file storage, documents and check-ins at $99/month
Visit, Basecamp to know their latest updates
#5 Plutio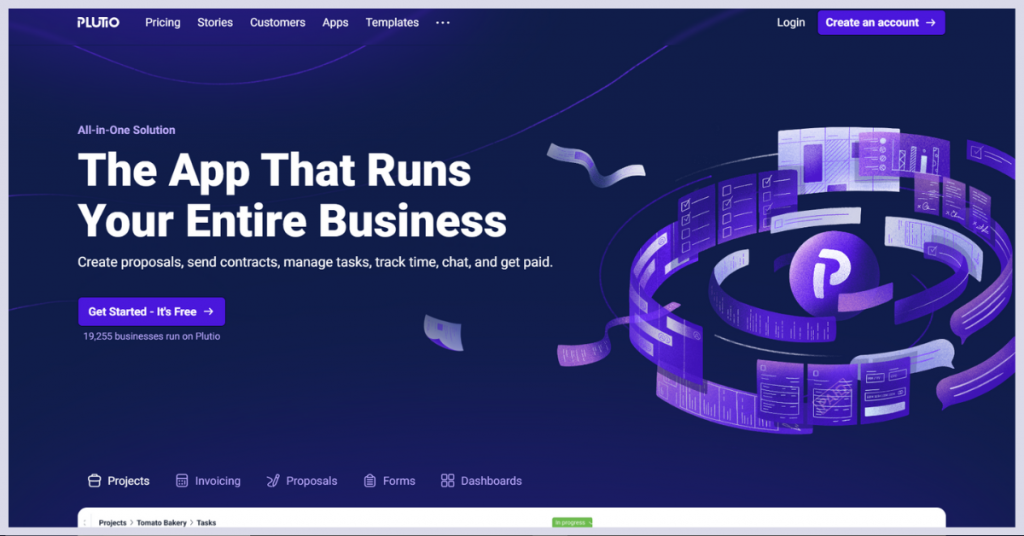 It is the best Airtable alternative for freelancers and small agencies. All other project management tools like Airtable are focused on large organizations. But this tool is built for freelancers and small agencies with limited team members. Their pricing is also so affordable for small teams. 
Features of Plutio
You can easily create proposals, send contracts, manage tasks, track time, and get paid using this software
You can easily track your project or task from start to finish
It has Real-time collaboration on multiple boards and a time sheet option
They are building the scheduler and automation work flows for supporting small agencies
It has a set of customizable and reusable templates
Pricing
Plutio has 4 pricing plans and it all comes with a free trial
$19/month Solo plan with this you can invite up to 3 clients
$39/month Studio plan with this you can invite unlimited clients and 10 contributors
$99/month Agency Plan with you can invite unlimited clients and 30 contributors
Enterprise custom plan with customizable features
Visit, Plutio to know their latest updates
Conclusion
Here we have seen about top Airtable alternatives in detail. All these Airtable alternatives are great project management tools. So choose the project management tool according to your business size and your needs. Because it will save you a lot of money and time. Hope you find this blog helpful and if it is so share it with the needful people. Follow Publish Square for more blogs like this.
Further Reading